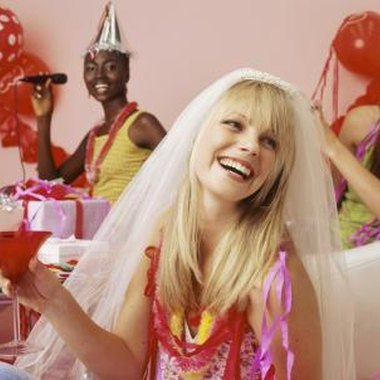 Bridal showers are customary events to honor the bride-to-be, but let's face it: There isn't much in it for the guests. Incorporating a few fun, modern games can get everyone mingling and focused more on the party than the opening of gifts. The key to a great shower is moderation. Make a two-game limit, and get a feel for the mood. If a game is falling flat, move on to something different.
Wedding Night Preview
Like a wedding Mad Libs, this game is great for crowds who can appreciate a little raunchiness. Designate a bridesmaid or other guest to take notes while the bride opens gifts. Phrases like "I know just where to put this!" and "I've always wanted one of these!" have new meaning when you reveal, at the end, that you've made a list of things the bride will say on her wedding night. The more suggestive the reactions, the more fun for everyone.
Fill-in-the-Vows
The guests can help the bride with the daunting task of writing her vows with a tongue-in-cheek (or sentimental) fill-in-the-blank. Have two clipboards with paper and pens. On one, write "I, (bride's name) take you, (groom's name) and promise to ... ." On the other, write the reverse to serve as the groom's vows. Have each guest write a "vow," either funny or heartfelt and then fold the paper down over her line so the next guest doesn't see what she wrote. Then have the bride read all her new vows aloud. At a couples shower, include the groom, or have a stand-in read his lines. The more outlandish the marriage terms, the better.
Grope the Groom
Couples showers have gained popularity recently. Brides want to include their grooms, and the grooms want some recognition, too. Blindfold the bride, and have the men line up with their pants leg rolled up to the knee. Have the bride feel each guy's leg and guess which one belongs to her future husband. Depending on the intimacy of the group, try this game with other body parts: faces, chests ... get creative.
The Newlywed Game
This game is based on the classic TV show, and you can tailor it to fit a more conservative audience or spice it up for a wilder crowd. Before the shower, e-mail the groom 20 questions about their relationship: Where was their first kiss? How many boyfriends has she had? What do you argue about most? At the shower, ask the bride the same questions, and see how many answers they had in common. At a couples shower, play the game live to catch the groom's reactions.
Photo Credits
Stockbyte/Stockbyte/Getty Images