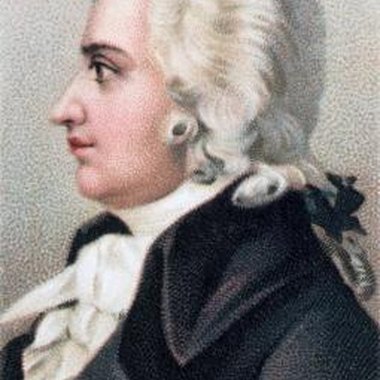 Though he died when he was only 35, Wolfgang Amadeus Mozart left behind a legacy of work that has secured his place as one of the most famous classical composers in history. Born in Salzburg in 1756, Mozart was encouraged to play instruments including the organ and the violin by his music teacher father. By the time he was 5, Mozart was already composing music of his own. At the time of his death, his compositions numbered more than 600.
Style
Mozart is one of the best known composers of the classical period, which spanned the latter half of the 18th century and the first decade of the 19th century and also included composers such as Franz Joseph Haydn and Ludwig van Beethoven. The classical style differed from the old baroque style in that it was less complex but included a greater variety of keys, melodies, rhythms and dynamics as well as changes in mood. Mozart embraced the new style, introduced by Haydn, and his work explored its new possibilities. His success helped to establish classical music as a distinct movement.
Compositional Method
Given his genius, there has been much debate over Mozart's compositional method. Rather than using improvisation to inspire his musical compositions, Mozart was instead able to imagine pieces of music in his mind, which he would then note down. In a letter to his father from Munich about an opera he was writing, he noted, "everything's composed --- but not written yet." However, Mozart was not always able to translate his compositions to the page perfectly and would often need to make several drafts to get it right.
Popular Compositions
Mozart wrote in a variety of genres including symphonies, concertos, chamber music and opera, and many of his pieces are among the most popular in classical music. Among the best known of his works are the Piano Sonata No. 11; the Serenade No. 13 for strings in G major, also known as Eine Kleine Nachtmusik; and the Requiem Lacrimosa. His 22 operas include "Don Giovanni," "The Marriage of Figaro" and "The Magic Flute," which have been performed around the world.
Mozart's Death
In 1791, Mozart's illustrious life came to an end. His death is one of the great puzzles of history and as yet no one can confirm exactly what killed him. Legend has it that he was poisoned by another composer, Antonio Salieri, who was jealous of his success. Salieri confessed to his murder toward the end of his life, however he was interred in an insane asylum at the time and this theory is now generally believed to be false. Other possible causes include tuberculosis, stroke, kidney failure and rheumatic fever.
Photo Credits
Photos.com/Photos.com/Getty Images