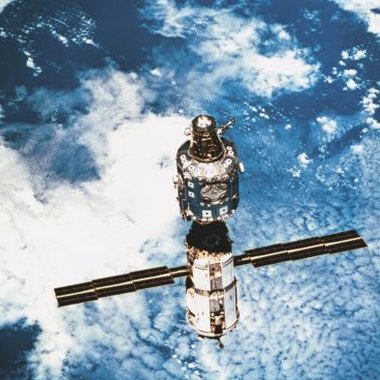 You do not get satellite Internet service for the great prices or for the amazing download speeds. You get it because you are in a location where cable and DSL, or digital subscriber lines, are unavailable or unreliable. Satellite Internet plans are pricier and slower than either cable or DSL. But if you need high-speed Internet in rural Alabama, satellite-based Internet will give you enough bandwidth and speed to download videos and large music files, something dial-up services simply cannot do well. Satellite plans have monthly download limits, require a contract and will charge a termination fee for cancellation before the contract expires.
HughesNet
HughesNet offers three high-speed packages with download speeds of 1, 1.5 and 2 megabits per second, or Mbps. The actual speed will drop somewhat during peak demand hours, but HughesNet is the fastest of the satellite providers. The trade-off is the download caps. Depending on your plan, you get a download cap between 6,000 and 12,000 megabytes, or MB, per month. If you need to download large files, HughesNet allows you unlimited downloading between the hours of 2 and 7 a.m. The prices for the three packages are $59.99, $79.99 and $109.99, though you get a $20 discount each month for the first three months. You can buy the satellite receiver equipment or pay a separate small monthly fee for leasing it.
SkyWay USA
SkyWay USA offers the cheapest rates of satellite providers, but is a one-way system. You can download files from the satellite, but if you want to upload anything you must do it through a dial-up connection. The download cap is 14,000 MB per month. Four packages are available, each offering a different speed. The download speeds range from 384 kbps to 1.5Mbps with prices ranging from $39.95 to $89.95 per month. You can either lease or buy the satellite receiver equipment. If you are handy, you can self-install that equipment. If you do not have to upload much, SkyWay offers significantly lower prices than other satellite providers.
Starband
StarBand offers three plans with speeds ranging from 512 kbps to 1.5 Mbps. Prices range from $69.98 to $109.98 per month, including both the service fee and the bundling fee the company charges. The three plans offer download caps of 4,389MB, 8,777MB and 21,946MB. You can either buy or lease satellite receiver equipment from StarBand. The equipment and installation fee can be recaptured through a mail-in rebate.
WildBlue
WildBlue is the satellite provider that both Dish Network and DirecTV use for television customers who also need satellite Internet. WildBlue offers three plans ranging from $49.95 to $79.95 per month with download speeds ranging from 512 kbps to 1.5 Mbps. The download caps range from 7,500MB to 17,000MB. WildBlue only allows you to lease its equipment, but installation is free provided it is a basic installation attached to your home. WildBlue also offers free anti-virus software for the first year of service. Make sure to check for any available bundling discounts if you also are a subscriber to Dish Network or DirecTV.
Photo Credits
Stockbyte/Stockbyte/Getty Images