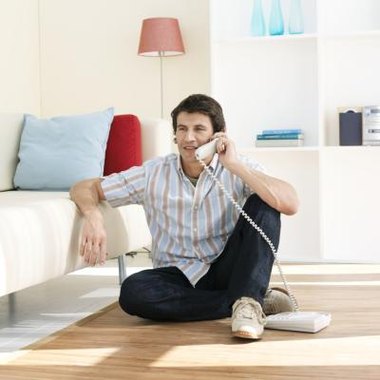 When looking at telephone service in the Queen City of Ohio, you no longer are limited to just one option. With the advance of digital phone lines and deregulation in Ohio, you have a number of options that will fit your needs as a Cincinnati resident, whether it is basic service for just local calls or a plan that lets you call to the other side of the country as much as you want.
AT&T;
AT&T; offers basic home service, or its digital U-verse service with advanced features such as voicemail, call waiting, call forwarding, call screening, call transfer, and LocateMe, which will ring other wireless and landline numbers simultaneously when someone calls you at home. The service gives you added features when you bundle it with U-verse TV, which works through your cable service. AT&T; also gives you a choice of calling plans that include unlimited local and long-distance calling, or you can pay by the minute on your long distance.
Cincinnati Bell
Cincinnati Bell is a local home phone service provider with three different plans to meet your needs. The most expensive plan, known as the Home Pak advantage, includes unlimited local and long distance calling, and a number of extra features such as voice messaging, call waiting, caller ID, call forward, call block, anywhere call forwarding and three-way calling. The Home Pak Lite option gives you unlimited local calling, 30 minutes of free long distance, and only offers call waiting, caller ID, voice messaging, and caller ID on call waiting. The basic phone line gives you what it says, a service with unlimited local calling, but you have to pay for long distance.
Time Warner Cable
Although it has fewer options than other companies, Time Warner gives you a number of features through its digital phone service that are available for free. Those features include three-way calling, caller ID, call waiting caller ID, call forwarding, caller ID block and the ability to block incoming and outgoing calls that could lead to additional charges. In addition, the caller ID feature will let you see who's calling on your television while you watch your favorite programs. For an additional charge, you can add a second line, voice mail and an unlisted phone number. You also can call anywhere in the U.S., Canada, and Puerto Rico for free but have to pay for international calls.
Trinsic
Trinsic, a subsidiary of Matrix Telecom, has seven different options. Unlimited gives you unlimited local and nationwide long distance for the home and includes a voicemail option. The value package has unlimited local and 50 nationwide calling minutes, while the basic package offers a no frills local calling option. You can add long distance service that costs a few cents per minute or up to 500 minutes of calling per month for free.
Photo Credits
Stockbyte/Stockbyte/Getty Images