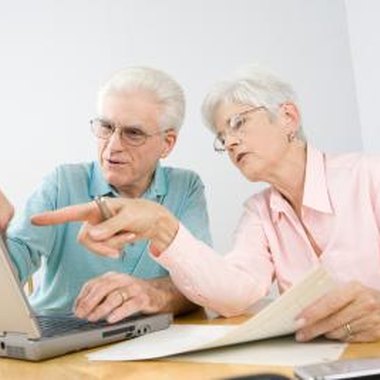 Numerous Internet providers offer service in Atlanta, a city of about 5.5 million in the 28-county metropolitan area that is Georgia's state capital. To compare providers, you must consider reliability, the options offered, Internet speed and price. Some of these companies also provide phone and cable TV, and will bundle these three services together to save consumers money. Options vary considerably, from the number of Internet addresses provided, to faster Internet speeds, to online security services rendered. If money is your primary consideration, Internet deals change frequently. Checking for the best deals available in Atlanta might even get you a better deal.
Step

1
Bundle your AT&T; high-speed Internet with AT&T; phone service. AT&T; Internet packages in metro Atlanta include basic Wi-Fi that allows you to tap into AT&T; Hot Spots throughout the United States to use your laptop. Choose speeds of 1.5, 3 or 6 Mbps. With DSL packages, AT&T; provides smart controls, allowing you to stop spam, manage Web content, block websites and control the time your children can spend online.
Step

2
Choose from several Internet speeds with EarthLink, which provides both dial-up and wireless Internet connections. Customers receive complimentary virus and spyware protection, eight Internet addresses, a site builder to help build their own home or business pages and 24/7 customer support.
Step

3
Pick Cox Communications for an all-cable broadband network, which is undisturbed by dilution caused by distance or bandwidth maximums. Its high-speed Power Boost can handle streaming video, competing games played at the same time, and it will quickly download and upload music and large files at speeds up to 15 to 25 Mbps. Get up to 55 Mbps with Cox's Ultimate Internet connection that can run your gaming console, iPhone or smartphone, and MP3 player.
Step

4
Use Comcast as a broadband provider in Atlanta to meet Internet, cable, HD and phone needs. One of America's leading fiber-optic networks, Comcast's Internet speeds are faster than DSL phone connections. An extra boost of speed kicks in for uploading photos or when downloading videos, movies, music and games. Benefits include security by Norton Security Suite, the Universal Address Book powered by Plaxo and The Fan video player.
Step

5
Bundle with Time Warner Cable for its Internet service called Road Runner High Speed Online, as well as for digital home phone and digital cable. Time Warner's Internet connection allows for streaming videos, sharing photos and for game play. A free Internet Security Suite provides security and parental controls over online usage. Time Warner Cable uses a fiber-optic/coaxial network.
Step

6
Receive 24/7 customer service at Charter High-Speed Internet. Packages contain spam-filtered software, a firewall and anti-virus protection, as well as 10 email addresses and extra online storage. Wireless connections provide for up to five computer connections at the same time, downloading movies and music, and personal web space to create your own website. Choose from 5, 10 or 16 Mbps.
Step

7
Obtain Internet by satellite, not telephone with HughesNet Atlanta Satellite Broadband. Customers must have a clear view of the Southern sky for HughesNet to set up a satellite dish. The HughesNet modem works with operating systems supporting TCP/IP protocol, which includes Windows, Mac, Linux and UNIX. HughesNet plans include free installation.
Photo Credits
Photos.com/Photos.com/Getty Images