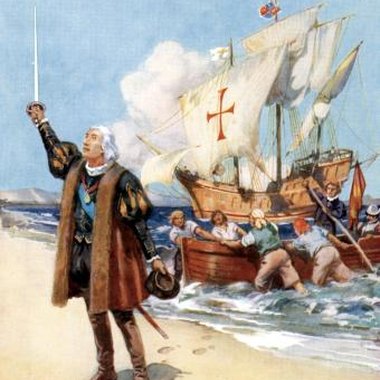 Christopher Columbus arrived in the Americas on October 12, 1492. A U.S. federal holiday is now held on the second Monday in October to commemorate the event. Many communities around the United States stage celebrations to honor Columbus and his Italian heritage. Seaside Heights, New Jersey, stages an annual parade and Italian street festival.
General Information
The borough of Seaside Heights lies in Ocean County, New Jersey. The community has held a Columbus Day festival since the early 1990s. The Ocean County Columbus Day Parade and Italian Festival generally takes place on the weekend prior to Columbus Day. The festivities start with an opening ceremony on Friday evening and continue until Sunday afternoon. They celebrate all things Italian, from delicious cuisine to traditional song and dance.
Italian Street Festival
The Italian Street Festival is usually held in Grant Avenue area of Seaside Heights. Attractions include food vendors selling Italian delicacies, craft displays and and a dining tent where plenty of Italian food is on offer. Performers can also provide entertainment in the street festival and dining area, with singing minstrels, clowns and other acts providing some fun for visitors.
Columbus Day Parade
The Columbus Day Parade takes place on Sunday afternoon along The Boulevard in Seaside Heights, from Porter Avenue to Hiering Avenue. The parade features floats decorated with a Christopher Columbus, Italian or Italian-American themes. Participants can also include marching bands, dancers and other performers. Each year the organizing committee chooses a prominent New Jersey resident to take on the role of grand marshal.
Entertainment
Visitors to the celebrations can enjoy plenty of entertainment during the weekend, with this taking place on a main stage in the festival area. To provide the event with an authentic Italian atmosphere, the committee invites a special guest from Italy each year. This is usually a traditional Italian music and dance group, and during the course of the weekend they will generally put on a few performances. Other local acts with an Italian flavor can also put on performances on the main stage during the festival.
Grand Marshal Dinner Dance
Those who want to get into the spirit of the Columbus Day celebrations early can attend the annual grand marshal dinner dance. This usually takes place in June to celebrate the naming of the individual who will take on the role of grand marshal at the October festivities.
Photo Credits
Photos.com/Photos.com/Getty Images