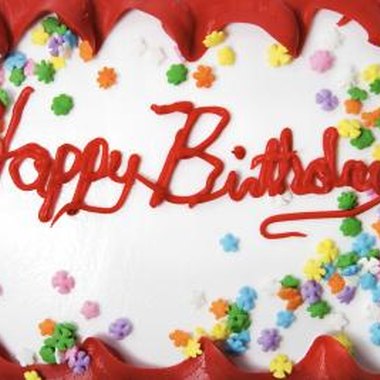 Every year offers an opportunity to create a new and different birthday party experience. Whether you throw the party for a friend, family member or for yourself, you have many options for themes and activities. Create a colorful, imaginative and exciting birthday party while staying within your budget and without exhausting yourself. Grab a pen and paper to start planning your next colorful and memorable event.
Gypsy Theme
Invite your guests to join you for a gypsy birthday party. Instruct them to arrive in colorful gypsy clothing, such as bright scarf skirts and colorful peasant blouses for the girls and colorful shirts and black pants for the guys. Hang colorful bead curtains at the doors and cover your tables with cheerful scarves or paper table covers. Pass out colorful metal or plastic coin necklaces, bead jewelry and little brass bells on elastic cord for your gypsies to wear. Opt for traditional Roma foods such as sausages, fruits, vegetables or stew or a gypsy decorated cake.
Rainbow and Butterfly Theme
Decorate your party space with butterflies hanging on the walls or suspended from the ceiling. Stack red, orange, yellow, green, blue and purple balloons on strings and tie them to a curved arch to make a rainbow. Add more butterflies suspended from your arch. Bend 12 gauge color-coated aluminum wire into butterfly wing sections and cover them with sections of pantyhose or knee highs. Sew the sections together through the pantyhose to make butterfly wings, Allow the attendees to paint the wings with glass paint and use pipe cleaners to make the insect body and antennae. Add a colorful butterfly cake or cupcakes and rainbow sherbet punch.
Hawaiian Luau
Pass out colorful leis to your Hawaiian birthday party guests. Decorate with colorful tropical flowers such as hibiscus, plumeria, anthurium and orchids. Add plenty of greenery to your party area to create a lush, tropical jungle. Use tiki torches outside or hang Chinese lanterns indoors. Invite your guests to wear grass skirts and colorful shirts or tops. Lead your guests in some Hawaiian hula dances before serving fruit kabobs, teriyaki beef or chicken skewers and a green salad. Your drink options include hibiscus tea, pina coladas or other fruit drinks.
Mardi Gras Theme
Stock up on the Mardi Gras beads, masks and decorations for a colorful and memorable birthday party in or outside New Orleans. Invite your guests to dress in their most colorful Mardi Gras costumes and pass out the beads and carnival masks as they come through the door. Load them down with doubloons they can spend with a fortune teller, balloon animal artist or on birthday treats. Lead your party guests on a Mardi Gras parade around the house, yard or park complete with jazz music on your mp3 player. Send them home with colorful loot bags full of trinkets and party favors.
Photo Credits
Thinkstock/Comstock/Getty Images