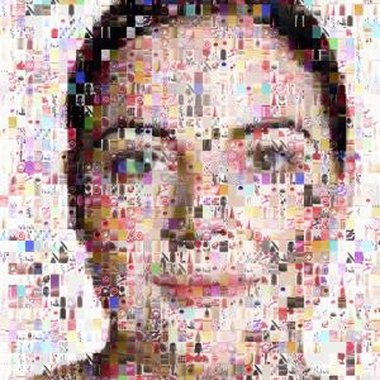 The Merriam-Webster dictionary defines collage as "an artistic composition made of various materials (as paper, cloth, or wood) glued on a surface." While the simplest collages use only paper and glue, more elaborate projects might incorporate a variety of materials. These materials can include bits of fabric, feathers or buttons and lace. Collage techniques have been explored by well-known artists such as Pablo Picasso. The art form is easily accessible to artists of any age and experience level according to Jennifer Atkinson, co-author of "Collage Sourcebook: Exploring the Art and Techniques of Collage."
Surface
All collage compositions begin with a surface of the artist's choice. Some prefer canvas or paper, while others use less traditional materials. These include old books, cigar boxes and cardboard as well as card stock or fabric. Depending on the project, the artist might decide to treat the surface -- also called the support -- with a primer, paint or sealant to preserve it or make it easier to apply additional layers or objects.
Layers
Collage compositions often incorporate layers of torn or cut scraps of paper from sources such as thrift shops, relatives or estate sales. Some artists make their own paper from scratch or personalize store-bought paper with nail polish or paint, says Barbara Matthiessen, author of "Collage Creations." Copies or scraps of re-purposed paper from used books or musical scores, wrapping paper or pages from vintage Christmas catalogs also make unique collage materials. Some artists use new or vintage bits of fabric as well.
Ephemera
Many collage artists use ephemera -- commonly used documents intended for short-term use -- to tell a story and personalize their compositions. Ephemera commonly used in collage include postage stamps, theater tickets and marriage licenses. Other items used include sewing patterns, magazine advertisements and sketches as well as handwritten letters and greeting cards in new or vintage condition. Photographs from the artist's personal collection and from outside sources add interest to collage compositions, but artists should avoid using trademarked images in their work to avoid legal issues.
Found Objects
Collage artists delight in using everyday objects in unusual ways to personalize their compositions. Some objects may have personal meaning if they are from your grandparents' attic or your own closet, while others may come from third-party sources such as online auction sites or secondhand stores. Pressed flowers or leaves, buttons and seashells as well as bits of broken jewelry can be used in collages. Keys, watch faces and matchboxes as well as marbles and pebbles can add interest -- the possibilities are limited only by the ability to adhere the items to the chosen surface.
Art and Craft Materials
Collage necessarily involves adhering materials to a surface with some type of glue, rubber cement or other adhesive compatible with the materials used. Mixed media artists may also use art and scrapbooking supplies such as ink and stamps, acrylic paint or wire. Melted wax, charcoal or glitter can be used to embellish the piece. Fabric collage may involve simple needle-and-thread sewing, embroidery or quilting.
References
"Collage Discovery Workshop"; Claudine Hellmuth; 2003
"Collage Journeys"; Jane Davies; 2008
"Collage Creations"; Barbara Matthiessen; 2004
"Collage Sourcebook: Exploring the Art and Techniques of Collage"; Jennifer Atkinson, et al.; 2005
Photo Credits
Thomas Northcut/Lifesize/Getty Images