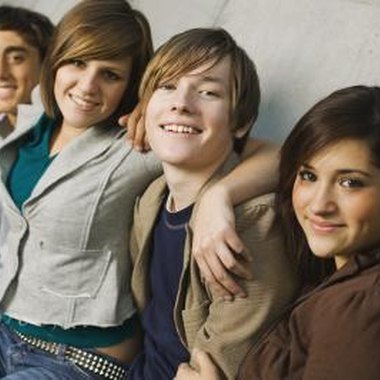 For many teens, 15 is the first year they will experience or host a coed birthday party. While there may be a lot of pressure to "get it right," it's important to remember that most teens don't need a whole lot of planned activities to make a party fun. Keep it flow-key, and be sure to provide lots of food and popular music. If your teen wants to have a theme party, there are some ideas that are coed friendly and easy to plan. Relax and enjoy the party!
Fear Factor
Decorate your backyard or other party venue with black and yellow streamers and plan a "Fear Factor" party! Though this television game show is no longer on TV, the stunts used in the show and parties featuring this theme are gaining popularity. In the show, contestants participate in stunts that are increasingly more difficult such as sitting in a tank full of snakes or eating bugs. Separate your party guests into boy/girl teams of two, or separate them into two large teams, boys vs. girls. Plan silly stunts and serve chocolate "mud pie" instead of birthday cake.
Costume Party
Costumes are not only for Halloween but can be a lot of fun any time of year. Have your teen choose an entertaining theme such as super heroes, and ask each guest to come to the party in costume. Give prizes for the most creative costumes or the cutest super hero couple. Snack food and music can accompany this type of party, but you can also play some simple party games to keep teens busy and involved in the festivities.
Scavenger Hunt
You will need to set a few ground rules for a scavenger hunt party, but it can be one of the best party ideas for teens. Before the party begins, decide how you will divide your party guests into teams. You can divide the guests into two larger teams, or decide to make it more intimate and divide the group into teams of three or four. Provide scavenger hunt lists for each team with several items on each list, ranging from easy to find to very difficult to find. For example, one list can include a picture of the host's parents, a pineapple and a teddy bear. When creating the lists, be sure the items can all be found within a one block radius of the party venue and that all items can be found without vandalizing, bothering the neighbors or breaking any laws. Provide small prizes to the team that finishes their list first.
BYO Music
With iPods and MP3 players, it is easy for teens to tote their music anywhere they go. Plan a bring-your-own-music party for your teen, and invite all the guests to bring their portable music players with them. Give each teen a chance to play DJ and create a party playlist. Provide a speaker system, plenty of food and drinks and ample space for dancing. You can also plan a few simple party games such as music trivia, a dance contest or a "Name That Tune" game.
References
Photo Credits
Jupiterimages/Brand X Pictures/Getty Images