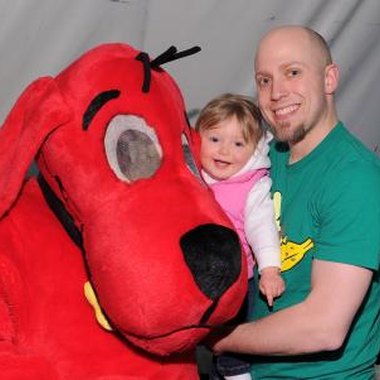 Because Clifford the Big Red Dog is a favorite character of so many young children, he is a popular theme for birthday parties among the younger set. Begin preparations by sending out store-purchased Clifford invitations or making invitations from light brown construction paper cut into the shape of a bone. Order a Clifford cake from a favorite bakery or make one yourself. Decorate the party room with bright red balloons, making sure you have enough to send one home with each guest. Keep the theme going from the time the first guest arrives until the last one leaves.
Arrival
As the guests arrive, transform them into Clifford's friends. Use face paint to paint on a doggie nose and whiskers. Add felt ears hot glued to headbands before the children arrive. As the children wait for others to arrive, they can decorate a collar from fun foam. These will be cut out in advance with Velcro hot glued onto each end for fastening. Set out plastic jewels and felt cut-outs so guests can further embellish each collar.
Adaptable Games
Tweak common games to fit the Clifford theme. Play Stick the Bone On Clifford like Pin the Tail On the Donkey. Draw a large poster of Clifford for the game. Cut bones from brown construction paper and place double-sided tape on the back. Blindfold each player and let him try to stick the bone in Clifford's mouth. Or play Follow the Dog, with children taking turns being the doggie-leader. Duck, Duck, Goose can be played as Puppy, Puppy, Dog, and Drop the Handkerchief can be Drop the Bone.
Uniquely Clifford
If it's nice outside, find a large box from an appliance store and let the kids paint it as a doghouse. Once dry, they can play in and around it. Consider having a guest from the humane society or pet rescue group bring a dog and give a brief talk about caring for pets. Or transform the backyard into a doggie obstacle course for guests. For example, they might have to run to the slide on all fours and climb up it. Next, they could roll over and over to the sandbox where they would find a buried bone.
Refreshments and Favors
Set the refreshment table with Clifford cups, plates, and napkins. Red punch is a must. Place bowls of "puppy chow" around the room for munching. Make this by melting a 12-ounce bag of chocolate chips, 1/2 cup of butter and 1 cup of peanut butter over medium heat. Pour the mix over 12 ounces of Crispix cereal. Dust the chow with powdered sugar. Send each guest home with a "doggie bag." Decorate brown paper sacks with paw prints, then fill them with Clifford-themed favors such as dog books, Clifford coloring pages or stickers, and paw print stamps.
Photo Credits
Mike Coppola/Getty Images Entertainment/Getty Images