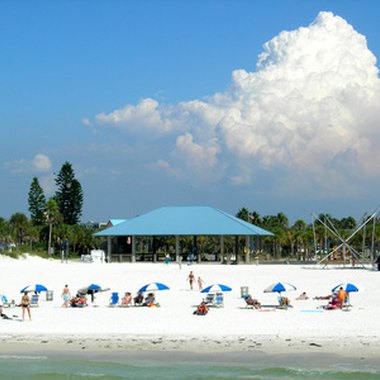 Many resorts in Clearwater Beach sit on public beaches and offer all types of amenities and activities, including water sports such as boating, kayaking, fishing, water skiing or jet-skiing. An aquarium with recovering marine animals, a public park sitting on a white sand beach with sea turtles and a public park with regular live music acts and street performers sit near Clearwater Beach's resorts. Resorts in Clearwater Beach cater to couples on romantic getaways, offering furnished balconies with ocean views. Other resorts are geared toward families with amenities such as children's playgrounds.
Shephard's Beach Resort
Every evening and afternoon at the Shephard's Beach Resort, a hotel on the Gulf of Mexico, guests can listen to live rock, hip hop or reggae musicians at the hotel's tiki bar or indoor lounge. The hotel has an outdoor nightclub for adults and offers a waterfront, buffet-style restaurant with lobster, crab, fish and rib dishes. For couples or families, the hotel features a jet-ski and sailboat rental service. Some suites have dining room tables, and many suites have living room and bedroom areas with flat-screen LCD TVs.
Best Western Sea Wake Beach Resort
The Best Western Sea Wake Beach Resort has its own private beach. The hotel has private cabanas on the beach with lounge chairs, an umbrella and a table. You can order cocktails and non-alcoholic beverages on the beach. The hotel's café-style beachside restaurant, which features indoor and outdoor dining spaces, serves pancakes and omelets for breakfast and sandwiches for lunch. Some guest rooms and suites have furnished balconies with beach views.
Sandpearl Resort
The Sandpearl Resort sits directly on Clearwater Beach. The hotel offers a children's program with activities such as scavenger hunts, kite-making sessions and table tennis. The hotel has cooking and sailing lessons for adults and offers yoga and pilates classes and has a spa with a hot tub and steam rooms. The resort has a four-diamond restaurant, a beachside grill restaurant and a shop with Starbucks coffee. From the hotel, you can take guided boat or kayak tours. Many suites at the resort are equipped with washers and dryers. Most rooms and suites come with mini bars, hotel robes and free bottled water.
Sheraton Sand Key Resort
The Sheraton Sand Key Resort sits on the Gulf of Mexico. The hotel's swimming pool sits by the beach. The resort allows guests to use its rackets and tennis balls on on-site tennis courts. The hotel offers a spa with Gulf of Mexico views. Dining options include a bistro-style restaurant with Caribbean cuisine, a poolside bar and an American-style tavern with live musicians during some weeknights and Saturdays. Guests in some suites have access to a private lounge, which has evening hors d'oeuvres and a daily continental breakfast. Many suites have separate dining rooms and balconies with ocean or pool views.
Photo Credits
Clearwater Beach, Florida image by Andrea Gerak from Fotolia.com