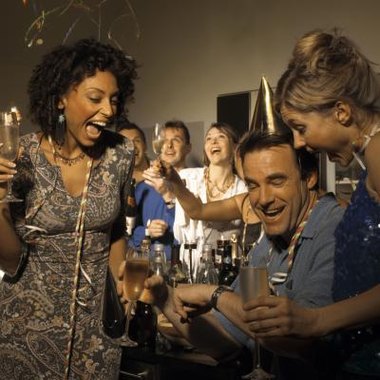 Door prizes are a typical way to add excitement to a class reunion gathering and thank alumni for coming. Don't think these giveaways have to be expensive. Choose prizes that are meaningful to each guest. Many times, reunion planners can get local businesses to donate door prizes, but classmates are another option. Some have job connections in certain areas, such as graphic design, printing, artistry or retail, and can help out a great deal.
School Items
Pay homage to the school that brought you all together. Put together a basket showcasing school pride with notepads, pencils, pens and shirts containing the school name and logo and cheerleader pompoms in the school colors. Other prizes might also showcase the school colors. Find jewelry that displays gems or stones, or an arrangement of flowers, in these colors. Compile old photos of school events and classmates for a calendar for the upcoming year. Each month might contain a different fact about the class or classmates. In addition to being a door prize, extras can be printed and sold at the reunion. Have the official graduating class photo framed and ask entering alumni to sign it to be given away at the end of the night. Leave plenty of white mat board around the photo for signatures and comments.
Nostalgia
The entire night is about recalling old times. Door prizes can do this by centering on the years the alumni were in school. Give a book that discusses major news events, fads, foods, toys and other cultural distinctions of the graduation year. This serves as an ice breaker in getting guests to open up to one another, reminisce and marvel about how things have changed. A CD of songs that were popular throughout the school years (including the prom song) can be a door prize. Popping the CD in the car on the drive home is sure to bring back memories, much to the chagrin of younger children who might be in the backseat. However, they might enjoy another flashback prize of a basket filled with popular toys, candies, movies and snacks from their parents' school years.
Area Businesses
There are going to be a fair share of out-of-town guests who would be excited to share what the town has to offer with their families. Encourage alumni to revisit old stomping grounds where students hung out back in the day with the door prizes. These might include passes for a bowling alley, nearby tourist attraction or miniature golf or a gift certificate to area restaurants or eateries that were after-school hot spots or celebratory destinations after school concerts, football games or the prom.
Keepsakes
Have the school logo and "(Number) Reunion of the Class of (Year)" engraved, printed or hand-painted onto door prizes. These make memorable keepsakes to adorn shelves or mantelpieces back home. Items that can be engraved include coffee mugs, champagne or shot glasses, serving dishes and vases. A keepsake picture frame might be given away that also contains an applicable phrase like "Here's to Old Friends" or "Those Were the Days." Inside the frame, the winner might place a photo taken at the reunion of him with old friends.
Resources
Photo Credits
BananaStock/BananaStock/Getty Images