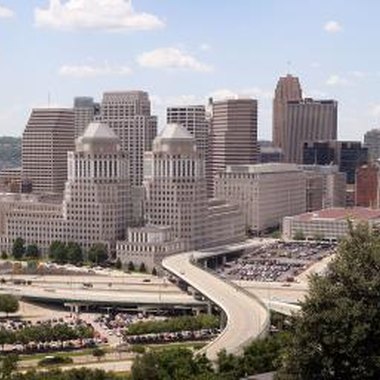 Cincinnati Bell and Time Warner Cable offer a range of telecommunication products in Cincinnati, as well as portions of Ohio, Kentucky and Indiana. Both companies provide a range of Internet plans, with Internet delivered through dial-up, DSL and fiber. The two companies also offer cable television and voice communication services. In addition to telecommunications, Cincinnati Bell provides home security and energy services to its customers.
Internet
Through a fiber network, Time Warner Cable delivers broadband Internet with its Road Runner service and a wideband Internet service powered by DOCSIS 3.0 technology with download speeds of up to 50 Mbps. DSL Internet is also offered through a partnership with EarthLink. Cincinnati Bell offers dial-up under its Fuse service, and high-speed DSL Internet with its ZoomTown product that offers download speeds of up to 5 Mbps. Cinncinati Bell also provides a fiber-optics based service, Fioptics, with speeds of up to 100 Mbps. Internet plans with Time Warner Cable include a broader range of free services, such as online video, music and gaming content, and a Internet security suite. In comparison, Internet security suites with ZoomTown and Fioptics are provided at a fee.
Television
Cincinnati Bell offers television plans through a partnership with DirectTV, and also offers digital television plans through its Fioptics service. Time Warner Cable also offers a digital television service through its fiber network. Both service providers provide digital television with on-demand programming, a selection of free HD channels, and the option to purchase a digital video recorder, including HD-enabling devices. DVRs can be remotely set using a mobile application with Cincinnati Bell and through a customer's online account manager with Time Warner Cable.
Voice Communication
Time Warner Cable provides digital home phone services over its fiber-optic network. In comparison, Cincinnati Bell features a broader range of voice communication services, including home phone through a phone line and digital home phone plans through its Fioptics service. Features such as three-way calling, voicemail, call waiting, caller ID, call back and call forwarding are provided with all digital phone plans offered by Time Warner Cable, while only select features are provided with Cincinnati Bell, depending on which plan is purchased. Cincinnati Bell also provides wireless phone services with a range of mobile phones and smart phones.
Other Services
In addition to telecommunication services, Cincinnati Bell offers home security to its customers. The company provides security equipment and monitoring, as well as smoke and water monitoring, carbon monoxide detectors, motion sensors, and door and window monitoring switches. The service is certified by the Central Station Alarm Association, a trade organization representing security monitoring service providers, and by UL, an international safety science company. Launched in June 2011, Cincinnati Bell also provides an electricity service in southwestern Ohio delivered entirely through locally generated wind power. If you are a Duke Energy customer, you can enroll with Cincinnati Bell Energy online, by phone or at a Cincinnati Bell retailer. Duke Energy will continue to deliver electricity to your home and provide you with support and maintenance, and you can bundle your energy service with other Cincinnati Bell plans, including television, Internet and phone.
Photo Credits
Scott Olson/Getty Images News/Getty Images