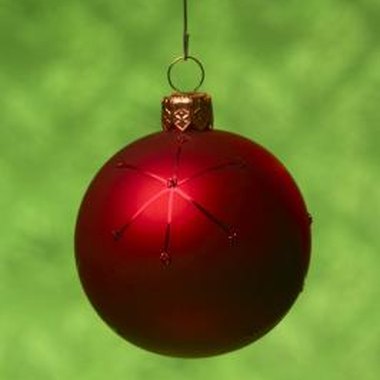 Christmas is the time for churches and church-goers to celebrate the birth of Jesus. Such celebrations often take the shape of Christmas parties, which provide church-goers with festive decorations, foods and activities for adults and children to enjoy. If you are on the organizing committee for your church's Christmas party, let the spirit of the holiday inspire you with ideas to ensure a joyous occasion.
Christmas Decorations
An effective way to get your church community in the Christmas spirit is to decorate the church. Set up a centralized Christmas tree and embellish it with ornaments, tinsel, candy canes and an angel or star on top. Decorate other parts of your church with fake snow, snowmen, Santa figurines and a Nativity scene. And don't forget the colorful twinkle lights, which you can wrap around columns, dangle from the ceiling to make a canopy-effect or tape along the church altar.
Festive Foods
Christmas is a time for sharing foods and eating with others, so organize a potluck for your church's Christmas party. Congregation members can bring in their special Christmas dishes, from hams to cookies, and mix and mingle while enjoying the various meals. Advertise for your potluck a couple of weeks in advance to give people time to get their recipes together and make the food. And beverages should be served, too, such as hot chocolate with marshmallows. For your potluck feast, play Christmas music and decorate the tables with tinsel and candy canes.
Holiday Activities
Holiday activities are entertaining for kids and adults, and should be part of your Christmas party at church. Host an ornament decorating party where members receive an ornament to paint and decorate with glitter glue, sequins and other crafts. Or have kids construct snowmen out of giant marshmallows and toothpicks. Another activity for your church Christmas party is to make pine cone picture frame ornaments by using card stock and pine cone scales to create the frame. You can also host a gingerbread house contest, where families can compete against each other to design and build the best-looking gingerbread house.
Entertainment
Your church Christmas party should provide some sort of entertainment, such as carol singing by the church choir or a guest appearance from Santa or Rudolph for the kiddies. A Christmas play or pageant is also an appropriate entertainment option for your church Christmas party.
Photo Credits
Photos.com/AbleStock.com/Getty Images