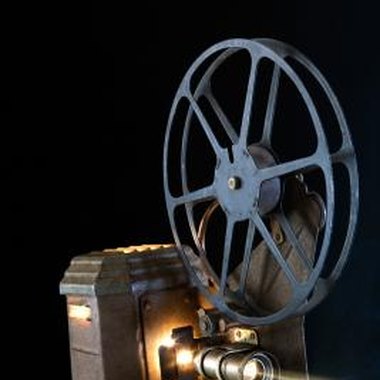 Christian filmmaking has been a popular artistic and spiritual pursuit since the film "The Great Commandment" was released in the 1940s. Christian film festivals are now held all over the country, providing filmmakers with an opportunity to share their work, receive feedback, celebrate Christianity and network with other Christians and artists. Texas is host to many Christian film festivals throughout the year showcasing a variety of work.
San Antonio Independent Christian Film Festival
The San Antonio Independent Christian Film Festival gives filmmakers an opportunity to compete and stretch their creative limits while further exploring their faith. Films featured at this festival emphasize obedience to Christ and a Biblical worldview. Other films encourage high moral standards that follow the teachings of the Bible. The films presented are generally geared towards family fun and appeal to people of all ages.
The Attic Film Fest
This festival strives to present Christian filmmakers with a venue through which they can share the teachings of Christ. The Attic Film Fest embraces films by amateur filmmakers and professionals alike. Films shown at this festival often emphasize forgiveness and love according to the teachings of Christ. Applicants submit their films, and judges decide which films to show at the festival. Some competitors even win cash prizes.
Gordon Pictures Christian Film Festival
Founded in 2010, this film festival works in conjunction with Movie Making Academy, providing students with an opportunity to showcase their work and receive feedback from audiences and other filmmakers, from amateur to professional. Gordon Pictures' Christian Film Festival often showcases films featuring short fictitious narratives about contemporary Christian life, as well as documentaries about the Christian path. Outstanding films receive trophies and cash prizes.
Accessing Christian Films
A plethora of Christian films are available at the website christiancinema.com. Some of the films showcased at Texas film festivals can be accessed here as well. Notable Christian films include "Letters to God," "Courageous," "Standing Firm," "True Champion," "The Widow's Might," and "Bringing Up Bobby." Even major cinemas are beginning to show Christian films, as is apparent by the popularity of "Passion of the Christ." As Christian films and festivals grow in popularity, Christians gain access to an increasing number of films that reinforce Christian values and provide an enjoyable experience for the whole family.
Resources
"Film Festivals": Marijke de Valck: 2008
Photo Credits
Jupiterimages/Photos.com/Getty Images