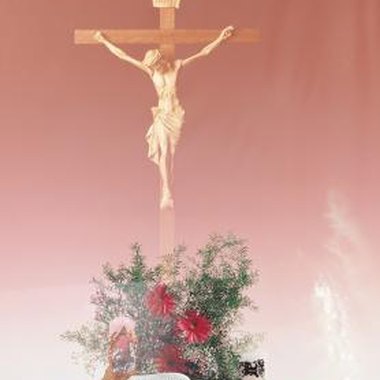 Although a young child may not remember the day of his christening, this religious occasion marks an important milestone in his faith and life. Make the most of your child's christening party by providing delicious foods and displaying appropriate decorations on the tables. Your guests will be impressed and your child can look back on photos of the party decor when he is older.
Centerpieces
Adorn the table at your child's christening party with an attractive centerpiece. Place a centerpiece in the middle of each table where guests will be eating. Easy centerpieces to put together include a vase full of fresh flowers or a balloon bouquet with balloons that feature a christening theme. You could also display a cross, angel or dove figurine. An easy option is to place your child's christening cake in the center of the table for guests to admire before serving it.
Favors
Place party favors on the tables at your child's christening party. Put all of the favors into a basket for guests to pick up or put one at the place setting of each individual guest. You can use the favors to assign seats by attaching a ribbon and a tag with the name of each guest to a favor. Pick favors that relate to the religious occasion like candle holders, bookmarks or picture frames that feature a cross or angel.
Food and Beverage
Provide the guests of your child's christening party with food and beverage on a designated table. Invite guests to visit the table, take what they desire, and enjoy the food and drink at another table. Breakfast or brunch foods can include an egg casserole, muffins, sausage links, fresh fruits, coffee and orange juice. A lunch or evening christening party can offer salad, potato salad, pulled pork sandwiches, soda, water or juice. The food and beverage table would not be complete without a christening sheet or tiered cake featuring the child's name, date of christening, and a religious symbol like a cross.
Tableware
Place tableware that suits the christening occasion on the table where party guests will be eating. Include items like a tablecloth, runner, napkins, plates, bowls, cups and eating utensils. Pick tableware that displays a common theme for christenings like a gender-appropriate color, crosses, angels, doves or the animals of Noah's ark. You can also have all of these tableware items placed on the food and beverage table if you are serving guests in a buffet-style fashion.
References
Photo Credits
Jupiterimages/Photos.com/Getty Images