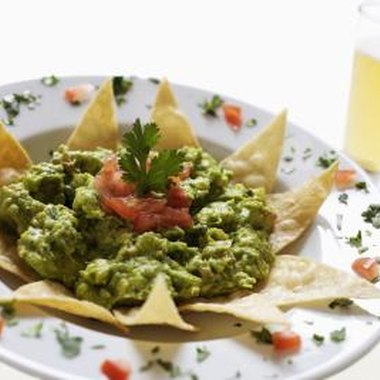 One day in March celebrates National Chips and Dip day across the United States. Use this momentous occasion to invite friends and family to share in an appetizer-only meal featuring -- you guessed it -- chips and dip. Whether featuring one type of dip or a variety, the event is sure to promote a mingling atmosphere for guests to converse.
Dips Around the World
Celebrate the culture of various ethnicities by serving various styles and flavors of chips and dips. The combination of sweet and spice lends itself to Indian chutney, which can be served with pita chips for your multicultural event using apricot, coconut, banana and cilantro, to name a few. Many chutney recipes include vinegar, garlic, fruit, nuts, herbs and spices. Handmade Mexican salsa made from tomatoes, jalapenos, pepper and onions with flour tortilla chips can be included in the celebration. Greek tzatziki with cucumber and greek-style yogurt, potato and garlic skordalia or taramosolata, also called fish roe salad, served with bread, bagel or vegetable chips round out the smorgasbord of cultural concoctions. Encourage party guests to wear clothing native to one of the featured nations.
Down-Home Cookin'
"Countrify" your chip and dip party with some down-home cookin'. Create handmade dips that resemble a country cooking style and include chunks of food in the creamy base. Many country dips include mayonnaise and sour cream in addition to seasonings, to differentiate one from the next. Country bacon dip made from mayonnaise, sour cream and bacon; a sesame garlic cheese ball with cheddar and cream cheese, sesame and garlic seasonings; and a creamy cajun dip with a spicy blend of seasonings mixed with the creams are some examples. Rustic-style chips from either a bag or by frying your own potato slices complete the party foods. Entice guests to arrive dressed in their most humorous "country" attire and hold a contest with the prize being a chips and dip tray.
Potluck
Invite friends, family and neighbors to the house for a potluck chip and dip party allowing each to bring a dip of their choice. The dip recipe should be unique to each individual and could be a family secret recipe or one that their family members have enjoyed at special occasions. The host may provide a wide variety of chips to include bagel, bread, tortilla, multigrain, potato and corn chips. Create your own healthier version of chips by cutting pita bread into triangular bits and toasting them in the oven.
Nacho Party
Theme your chips and dip party around a buffet-style chips and dip fiesta. Prepare a long table with ground beef, chicken, steak and port flavored with taco seasoning, diced vegetables, rice and a variety of condiments including sour cream, guacamole and queso toppings to create a plate of nachos. Stage a Mexican hat dance competition to take home the remaining nacho toppings as the grand prize for the most creative interpretation of the dance.
Photo Credits
Jack Hollingsworth/Photodisc/Getty Images