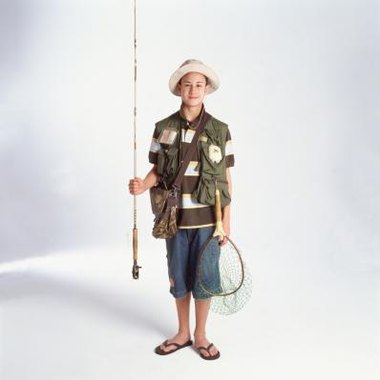 A birthday party at home with tacky paper decorations should be a last resort for parents of children in Rockwall, Texas. Get outside and sing happy birthday in the fresh air. Stick a birthday candle in a cone of ice cream. You're still responsible for paying for the party when you take the birthday show on the road, but you get help with planning, entertainment and cleanup.
On the Lake
Get the birthday party off dry land. Fathers and sons can fish or ride wave runners together at Lake Ray Hubbard. Big D Watersports (bigdwatersports.com) operates from Chandler's Landing Marina and rents pontoon boats that seat up to 14 passengers, as well as wave runners and other watercraft. Life vests are included with rentals. You may bring your own coolers aboard filled with birthday cupcakes, juice boxes and other easy-to-eat treats, as long as you don't bring glass containers.
Family-Friendly Restaurants
When you plan a birthday party around a meal, it's easier to keep young children from wandering away from the festivities. Chiloso's Mexican Bistro (chilosomexicanbistro.com) and Joe Willy's (no website; 2006 S. Goliad St.; 972-772-9432) have counter ordering, which is faster than a sit-down restaurant. Both restaurants serve soda pop in old-fashioned glass bottles, which is fun for kids to drink, as long as they are past the sippy-cup stage. Both have seating areas for large parties (12 people or more) and are well known for promoting family events, such as sponsoring little league teams and school nights, where they donate a portion of proceeds to designated schools. Many families celebrate birthdays and other family events at these restaurants.
Park and Picnic
Harry Myers Park is a 60-acre park in Rockwall that keeps kids busy on the hottest days of summer. The young ones can splash and cool off at the Sprayground, a water playground. You can reserve a pavilion or the gazebo for opening presents or eating cake. The cost at the time of publication is between $25 and $60 for five hours. The gazebo is beside a playground and skate park, The park is at Washington Street in central Rockwall. As an alternate, the Rockwall Parks Division will set up a birthday party at a recreation center. You may choose a theme, and the price for a two-hour party starts at $140.
Waterfront
The Harbor in Rockwall is a stroller-friendly collection of shops and restaurants by the lake, with spacious outdoor areas that include a boardwalk with a replica lighthouse. For a child's birthday party, choose one event to be the central attraction, such as a movie at Cinemark 12 or dinner at Gloria's, a popular Mexican restaurant. The City of Rockwall sponsors free concerts in the summer on Thursdays at the Harbor. You can spread out blankets for a birthday picnic, and there is still plenty of room for restless kids to roam. You don't have to make heavy-duty plans for a good time. You can buy everyone ice cream treats at Cold Stone Creamery and then relax by the decorative fountains.
Photo Credits
Creatas/Creatas/Getty Images