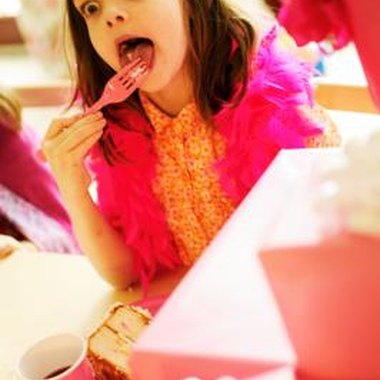 Parents in Columbus, Ohio, can find birthday party venues in their area for kids of any age. The selection of fun and engaging birthday party sites range from places that provide interactive fun options to locations where the kids can have a cultural or educational experience. This central Ohio city's birthday party locations for kids allow parents to find the perfect venue for their child's birthday party in their own city.
Activities
Bring a birthday child and guests to The Glass Slipper (glassslipperteas.com) where you can treat the kids to a birthday tea. The birthday child can select the theme for the birthday tea from the Glass Slipper's list of tea options, including a fairy tea, rock star tea, fashion tea or prince/princess tea. The Glass Slipper provides the favor bags, tea party food and birthday cake. Glass Slipper also organizes the party's games. The Young Chef's Academy (youngchefsacademy.com) in Gahanna, 14 minutes east of Columbus, offers birthday party packages that allow a child to bring friends to the Academy to prepare, and then eat, the birthday meal. The birthday child and family pre-select the dishes that the group will prepare at the birthday party with options such as pizza, enchiladas, pasta and a birthday cake.
At Home
Celebrate an enjoyable and creative birthday party at home with a Columbus party option that comes to the birthday child's house. Noah's Ark Workshop (noahsarkworkshop.com) will have a party leader come to your house to organize a stuffed animal-making workshop. The leader will bring enough kits for each child to make the stuffed toy, according to the birthday child's theme choice, which include princess, kung fu panda, CareBears, Hanna Montana and more. The party leader can also bring party favors and other party items or the family can provide their own. The Mr. Game Room mobile arcade (mrgameroom.com) brings a game room to the home of the birthday child. The birthday child and guests can have hours of fun and excitement playing games that parents pre-select. Up to 16 players can get into Mr. Game Room's mobile game room. The family will provide the refreshments after the games finish as Mr. Game Room does not allow food in the mobile game room.
Skating
Organize an energetic birthday party at a local skating rink. The Chiller Ice Rinks (thechiller.com), with five locations in and around Columbus, provides a birthday package that includes skate rental, one hour of ice skating for all party members (up to 10 children), a birthday table, refreshments (pizza or hot dogs and chips), cake and ice cream and, best of all for the parents, set up and clean-up. Any adults accompanying the party can skate for free. For kids who prefer roller skating, Skate Zone 71 (skatezone71.com), located in Columbus, offers birthday celebrants various package options if they wish to hold their party at the rink. All packages include admission to the rink for party guests as well as refreshments and a party host. A child who has a party at Skate Zone 71 receives a souvenir Skato cup, a spin on the Wheel of Fortune and a trip to the DJ booth. Other package deals include different types of refreshments, game tokens, party bags and other additional items.
Educational Venue
Take a birthday gathering to a Columbus educational venue for a great kids' celebration. The Columbus Zoo (colszoo.org) offers birthday packages that include a visit to the zoo, interactive zoo activities and a decorated room on the zoo premises where the birthday child can sit with friends for refreshments and birthday cake. The Columbus zoo offers birthday parties for children aged 4 to 12 for up to 25 people. Party days include Fridays, Saturdays and Sundays. The Columbus Museum of Art (columbusmuseum.org) invites families to book a birthday party on the premises for interactive fun and excitement. The birthday child can choose a theme for the birthday such as Outdoor Space Adventure, Magical Mystery or Pirate Party Treasure Hunt. The museum staff then uses thematic decorations and costumes, gallery experiences and an art activity to develop the experience. The birthday package includes all this plus invitations and the use of a private party room for an hour and a half.
Photo Credits
Jupiterimages/Photos.com/Getty Images