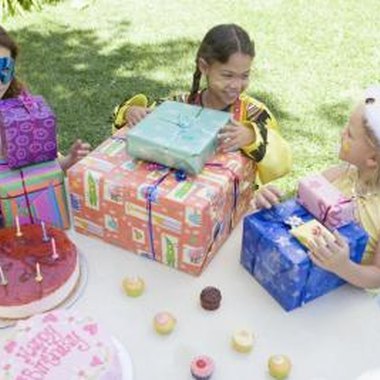 Panama City, located in Florida's panhandle on the Gulf of Mexico, offers multiple options for a children's birthday party places. Water and aquatic parks, indoor gyms, museums and more are all viable options for family fun in Panama City. Many locations offer discounted packages for large parties, all-inclusive options that take care of everything from cake to clean up and food and beverage options.
Gulf World Marine Park
The Gulf World Marine Park (gulfworldmarinepark.com) provides family entertainment to Panama City with live aquatic animal shows, opportunities to swim with dolphins and birthday party packages for children ages 5 and up. A birthday party package at the park includes park admission for up to 12 guests, a dolphin-themed birthday cake, a pizza lunch, a private party room and access to all of the park's daily shows. At the time of publication, this party package costs $250, with extra guests requiring an additional $15 per person.
Pump It Up Inflatable Party Zone
The Pump It Up Inflatable Party Zone (pumpitupparty.com) features dozens of inflatable obstacles, slides and more. Children run, bounce and jump throughout the indoor inflatable gym. Panama City's Pump It Up sells the "Perfect 10," an all-inclusive children's birthday party package. The package includes pizza, drinks, a sub platter, 60 minutes of access to the inflatable jump park, 30 minutes of private room party time, goodie bags and more for groups of up to 10 people. At the time of publication, this package costs $110. Other packages that offer more play time and larger attendance are also available.
Science and Discovery Center of Northwest Florida
The Science and Discovery Center (scienceanddiscoverycenter.org) of Panama City is a sprawling museum featuring interactive and educational science exhibits targeted for family enjoyment. Birthday parties can be held at the Discovery Center, with party packages including admission for up to 30 guests, access to the entire museum and its exhibits, two hours of private party room time, along with plates, forks, knives and balloons. Reservations are accepted and encouraged. At the time of publication, party prices range from $125 to $150, with parties open to both museum members and the general public.
Skate Factory
The Skate Factory (skatefactory.com), a family-oriented indoor skate center in Panama City, offers city residents and visitors access to an indoor, hardwood skating floor, complete with a sound and lighting system. Birthday parties are often held at the Skate Factory, so the company offers an all-inclusive party package. A minimum of 10 children are required for this package, which includes admission, skating floor access, 30 minutes of access to a private party room, food and beverages, party invitations, party favors and more. At the time of publication, the cost per person is roughly $13. Additional options, like glow sticks and full pizzas can be added for varying charges.
Resources
Photo Credits
Pixland/Pixland/Getty Images