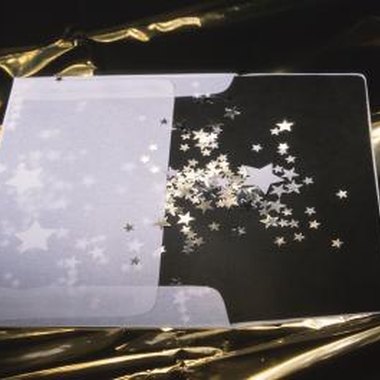 Some parents who choose to throw a birthday party for their children send out invitations through the mail instead of spreading the word in person. In some cases, adults and children from the same household are invited, while other parties are for the children only. Therefore, addressing the envelopes for a child's birthday party requires specific etiquette, depending on who is invited.
One Envelope
Unlike a wedding invitation, most children's birthday party invitations only use one envelope. Therefore, do not worry about the inner envelope and the etiquette for addressing it properly. Fill out the invitation with the appropriate information, slide the invitation into its envelope, address it and mail it out. There is no need to worry about whether the invitation is facing in the right direction or whether you addressed the inside envelope properly. Birthday party invitations are far less formal and have fewer rules.
Inviting Children Only
Some parents consider throwing a child's birthday party with only children present. Parents are free to drop off their child and enjoy a child-free day, presuming they have no other children, and let you handle them for awhile. If this is the case, address the envelope directly to the child. For children under the age of 10, use the first and last name of the child. For children ages 10 to 21, precede the name with the "Miss" or "Mr.," depending on gender.
Inviting Parents and Children
If parents are invited to the party, address the envelope to the child and include the words "and one adult" after the child's name. This lets parents know that one of them should be in attendance at the party to help with crowd control. If, however, you are throwing a bigger party where you are inviting the whole family, address the envelope to all members of the family.
Abbreviations
While the use of abbreviations is against etiquette for a wedding invitation, a child's birthday is a less formal event, even if the parents feel it is the most important event of the year. Therefore, it is perfectly acceptable to use abbreviations on the envelope for a child's birthday party. The abbreviations that are considered normal for a regular letter are acceptable when addressing the envelopes, such as street name abbreviations and the two-letter postal code for the state.
Photo Credits
Hemera Technologies/Photos.com/Getty Images