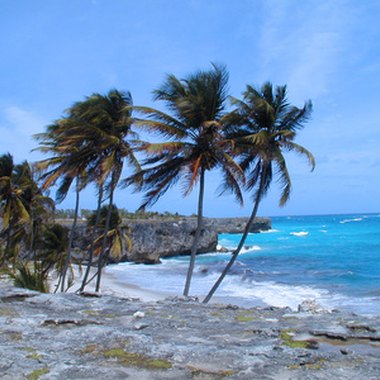 All resorts are not created equal; one resort may be suited for golf extremists, while another may be designed for newlyweds. The same is true on the island nation of Barbados, a popular family vacation destination. Many resorts on the island don't allow children, some don't particularly accommodate them--but a handful are well-suited for the smaller members of your family.
Divi Southwinds
The Divi Southwinds Resort is situated between a half-mile-long beach and an attraction-and-restaurant-heavy boulevard called "The Gap." In addition, the resort is home to two restaurants, a small grocery store, laundry room and a beauty salon. Children under age 12 stay at the resort for free, as long as they are accompanying an adult. Kids' activities often take place at the three freshwater pools that surround the resort. The staff is available to provide childcare upon request. Tennis courts, free wireless Internet and a fully-equipped fitness center are also available for guests.
The Sandpiper
The Sandpiper is a beach-front resort in the Saint James Parish of Barbados. In addition to the default amenities in each room, parents can request provisions such as cribs, books for children, high chars and play pens at no additional cost. The front desk will arrange a babysitter upon request and for an hourly fee. A playground at the resort's nearby sister hotel, the Coral Reef Club, is available; you can arrange for supervision of your children at through the front desk. Kids also can participate in water sports, such as water skiing, free of charge at the Sandpiper.
Turtle Beach Resort
The Turtle Beach Resort is on the beach front in South Coast; this beach is notable as the destination of egg-laying sea turtles. The resort is decorated with jungle-themed foliage, and two swimming pools curve and bend around the grounds. Small children can play in a separate, toddler-friendly shallow pool. The Kids Club, designed for children ages 3 to 11, is open 9 a.m. to 9 p.m. daily; it is staffed by professional children's caretakers. Other amenities that are especially of interest to families include three restaurants, two tennis courts and water activities on the beach.
Cobblers Cove
In the Saint Peter parish of Barbados, near the center of Speightstown, is the beach-front resort of Cobblers Cove. Equipment for children is available upon request, including cribs, books and toys. With 24 hours notice, the front desk can arrange for a babysitter to look after small children for an additional fee. At the Arts and Crafts facility on the resort, books, toys and craft materials are available for children to enjoy. Cobblers Cove also arranges excursions for children to nearby attractions, including zoos and botanical gardens. A special program for children ages 2 to 12 organizes sailing lessons, beach excursions, meals and supervised activities; this program is available at no extra charge from July 1 through August 31.
Photo Credits
barbados coast image by Christopher Dodge from Fotolia.com