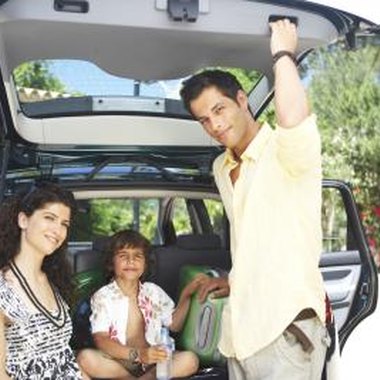 Your child's dream of seeing Mickey Mouse, Buzz Lightyear or Sleeping Beauty in person can finally come true with a family trip to Disneyland. Going to Disneyland is a big ordeal and requires a full day, or multiple days, of sightseeing, activities and rides. As such, it is important to plan your day or weekend trip carefully so that you know what to accomplish when you get there and what your child wants to see the most.
Items you will need
Computer with Internet access

Disneyland map
Step

1
Visit the official Disneyland website. Review the different destinations within the theme park, such as Fantasyland, Tomorrowland and Adventureland. Read the descriptions of the destinations to see what will appeal most to your child.
Step

2
Select your destinations at the Disneyland theme park, and click on the website link to see their attractions. For instance, if you select Adventureland, some of the attractions include the Indiana Jones Adventure, the Jungle Cruise and Tarzan's Treehouse. Look at each of the attractions to see whether your child is at an appropriate age or fits the height requirement for the attraction. To go on the Indiana Jones Adventure ride, for example, children must be at least 46 inches or taller. It is important to see which attractions your child can go on ahead of time to avoid an argument in the park.
Step

3
Look at the entertainment that Disneyland offers. A variety of theatrical shows, comedy shows and parades are always being offered in different areas of the park at different times. The entertainment descriptions will let you know whether a particular show is appropriate for your child.
Step

4
Purchase your tickets in advance over the website or by calling the ticket number. If you are going as a family, you might be able to save money by purchasing a package, where entrance to the theme park, along with meals and hotel accommodations are included. Purchasing your tickets to Disneyland in advance saves you from having to stand in line once you get to the theme park.
Step

5
Map out a plan for once you arrive at Disneyland. Decide in advance which attractions and shows you want to see in which order so that you do not wander aimlessly through the park.
Step

6
Pack essential belongings for your trip to Disneyland. Since the Disneyland theme park is outdoors bring sunscreen lotion, hats, sunglasses and comfortable walking shoes. If your child is still in a stroller, bring yours along, or see if you can rent one once you get to the park. You may also want to pack plastic water bottles and/or snacks to accommodate your little one. Seeing the park requires a lot of walking, and you don't want your child getting dehydrated or over hungry.
Step

7
Make sure you have cash on you. Even if you pack snacks and drinks, the allure of the snack stands and various dining options can be overwhelming for your child, as well as you. You might want to set the ground rules before you go to the park, stating that you will have only one snack and one meal from the park, or whatever your budget can handle. Having cash on hand can expedite your dining experience.
Step

8
Plan on buying souvenirs for your child. Hats, T-shirts, keychains, trinkets, toys and candies are available at gift shops, and it is special for kids to leave Disneyland with something to remember it by.
Tips & Warnings
Plan your trip to Disneyland strategically so that you avoid some of the crowds. Going to Disneyland on the weekend will be more crowded than going during the week. Additionally, if you go to Disneyland over a holiday weekend, the park may be more densely populated than if you were to go on a random weekend. The best months to go are mid-September through mid-November, mid-January through mid-March and mid-April through mid-May.

Break for nap time during the day if your child looks like she is getting sleepy. The excitement of being at Disneyland can be stimulating, but it is still important to give your child rest and breaks, since the days are long and full.

Be flexible. If your child doesn't want to do something you thought would be wonderful, let it go and move on to the next thing. Just because you make a schedule doesn't mean you have to stick to it.
Photo Credits
Goodshoot RF/Goodshoot/Getty Images