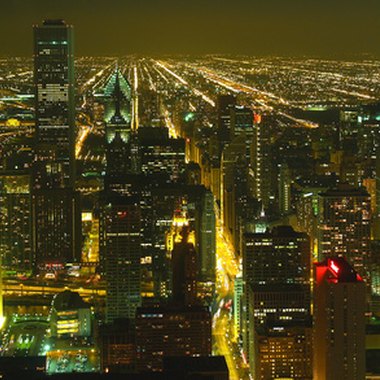 Many dozens of neighborhoods make up Chicago. If you're interested in watching a Chicago Cubs baseball game, you might want to stay in the Wrigleyville neighborhood. If you want easy access to Lake Michigan, then Lakeview or Lincoln Park would be a good choice. While all Chicago neighborhoods have their own distinct appeal, these locales are home to some of Chicago's main attractions, such as Wrigley Field, the Lincoln Park Zoo and Willis Tower.
Lakeview
The Lakeview neighborhood is a residential area in the northern section of Chicago along the shores of Lake Michigan. The neighborhood consists of boutique stores, movie theaters, coffee shops and apartment buildings. City Suites Hotel Chicago is located in the heart of Lakeview on Belmont and Sheffield. The cream-colored rooms with leather furniture offer ceiling fans, robes and free Internet access; suites also provide microwaves. Hotel packages, such as Cupid's Arrow, include fresh flowers and a bottle of wine during your stay. The Swedish-style Ann Sather Restaurant is less than a minute walk from the hotel. A one-minute-walk from the Vic Theater, where concerts are held, the three-story Old Chicago Inn is a bed and breakfast that offers standard rooms and suites. Amenities include pillow-top mattresses, fireplaces and sitting areas; some rooms have shared bathrooms. The hotel is approximately one mile from Clarke's Diner on Lincoln Avenue. Open 24 hours, the restaurant prepares omelets, burgers and pizza.
Lincoln Park
Named after the Lincoln Park Zoo, the northern Lincoln Park neighborhood borders the Lakeview neighborhood. Lincoln Park is residential, with a small number of high-rise apartment buildings and boutique shopping. The Willows Hotel Chicago is two blocks from Lake Michigan in Lincoln Park. Decorated in soft browns and tans, the 55 guestrooms offer free Internet access, minibars and either small sitting areas or living rooms. The hotel is less than one mile from the miniature golf course at the Diversey Driving Range and the Lincoln Park Zoo. Located directly across the street from Lincoln Park Zoo, the Belden-Stratford is surrounded by trees and has chandelier-lined ceilings in the lobby. Rooms provide Queen Anne furnishings, complimentary Internet access, whirlpool bathtubs and full kitchens. A rooftop sundeck with views of the city and Lake Michigan add to the hotel's features. Two restaurants are located on-site; Mon Ami Gabi is a French-style eatery that prepares sea scallops, duck and jumbo shrimp.
Wrigleyville
Wrigleyville is named after Wrigley Field, where the Chicago Cubs play their home games. Wrigleyville is a northern residential neighborhood with townhouses and brownstone buildings. Clark Street is a popular street in Wrigleyville for its abundance of bars and restaurants. Home to the Chicago Cubs players during the 1930s, the Sheffield House on Sheffield Avenue is only an eight-minute-walk to Wrigley Field. Rooms are spare and have black furniture, white walls and checked or striped bedding on a white background. Rooms include either queen-sized beds or two double beds; the Jacuzzi room, located on the first floor, has a king-sized bed and a whirlpool bathtub. Restaurants within walking distance include Harry Caray's Tavern on Sheffield and Pizza Rustica, both less than an eight-minute walk from the hotel.
West Loop
The West Loop is an urban neighborhood located in the downtown area. Many of the buildings are high-rises surrounded by art galleries, night clubs and upscale shopping. The Crowne Plaza Metro Hotel Chicago is steps from the attractions in the downtown area. The sleek guest rooms include dark wooden furnishings, framed artwork and cream-colored furniture with soft pink and red hues. Rooms offer king-sized beds, Internet access, satellite TV and blackout drapes. A fitness facility, meeting rooms and a health club are located on-site. The hotel is a six-minute-walk from Rubino's Seafood Restaurant and two miles from the Magnificent Mile. The six-story Holiday Inn Hotel and Suites Chicago Downtown, located off of Interstate 290, is one mile from Grant Park and less than one-half mile from the Willis Tower. The 145 guestrooms consist of blue and gold hues and offer city views, free Internet access, satellite TVs and small sitting areas. Suites also provide a living room with a sofa bed. On-site amenities include a fitness center with weight machines and treadmills, an outdoor rooftop swimming pool and a sundeck. The hotel's casual restaurant, Aurelio's Pizza Restaurant and Bar, prepares customized pizzas.