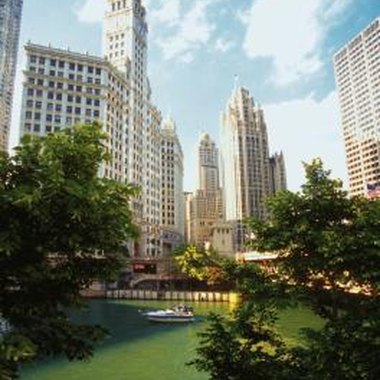 Wacker Drive runs along the south side of the Chicago River, which divides downtown from the Near North Side. Both sides of the river feature stunning architectural views. Guests at a hotel on Wacker Drive are well placed to explore nearby cultural offerings such as the Art Institute and the Ford Center, as well as high-end shopping along the Magnificent Mile and the funky nightlife just north of the river.
Renaissance Hotel
The Renaissance is owned and operated by the Marriott chain. Located at the corner of State and Wacker at the north edge of the Loop, it sits in a modern building that offers great views of the river and skyline. Guests describe the vibe as sophisticated but unpretentious. The only consistent complaint: no free wireless. Otherwise, service is friendly and attentive, and the rooms are generously proportioned. Overall, the Renaissance offers a solid if somewhat standard hotel experience.
Club Quarters
This branch of the Club Quarters chain is located right at the corner of Michigan and Wacker, steps from the Magnificent Mile. It offers small but well-appointed rooms at a bargain rate, especially considering the location (and views). The price may be low, but there's nothing shabby here. Club Quarters is designed for business travelers, and thus the hotel has a quiet and serious atmosphere. Tourists will appreciate the location and amenities, too.
Hyatt Regency Chicago
They Hyatt Regency is a AAA Four Diamond selection located one block east of Michigan Avenue on Wacker Drive. The sheer square footage can be intimidating. It's not for nothing that the hotel bar is called Big Bar, and everything else here is big, too. Expect luxury touches such as flat-screen TV and iPod loading dock in your spacious room with a view. One unique amenity the Hyatt offers is a selection of hypo-allergenic rooms to accommodate sensitive guests.
Swissotel
Swissotel offers contemporary luxury on the riverfront for business travelers and tourists alike. The Swissotel chain is particularly kid friendly, with a children's room and a "Very Important Kid" check-in routine, as well as suites designed with families in mind with a separate room for little ones. You'll have to pay a fee for a lot of the amenities offered, from wireless to access to the hotel pool.
Hotel 71
If you're looking for more of a boutique-style hotel experience, Hotel 71 might hit the spot. With 39 floors and 450 rooms, Hotel 71 isn't exactly small, but it can feel quite intimate compared to the luxury behemoths that surround it. The rooms are well appointed in a cool modern style. Movie lovers will be thrilled to know this place was featured in "The Dark Knight" and "Transformers 3."
Photo Credits
Medioimages/Photodisc/Photodisc/Getty Images