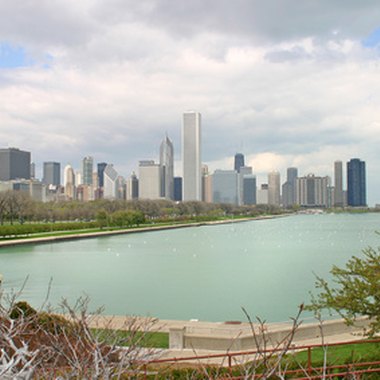 Chicago is a vacation destination with museums, shopping and cultural events available throughout the city. You'll find enough activity to easily keep you busy for a week, but that's a long time to be cramped into one hotel room. Whether you would like a little more room for a romantic trip or you are bringing the whole family, some Chicago hotels offer large suites that have two bedrooms.
The James Chicago
The James Chicago is a boutique hotel offering extra services, such as bikes available to guests; a customized running tour through Chicago's art and architectural highlights; and a chauffeured Audi SUV to drive guests around. Pets are not only welcome at this hotel, but you can request special meals for them from David Burke's Primehouse. In addition to the guest rooms, studios and lofts, The James Chicago has 1,400-square-foot loft penthouses with two bedrooms. These rooms have luxurious amenities such as a soaking tub with its own flat-screen television.
Palmer House Hilton
It is not an exaggeration to call Chicago's Palmer House Hilton "grand." It is in fact one of only 26 grand palace hotels in the U.S. The hotel has been visited by dignitaries from around the world, and the Empire Room was the showcase of performers from Frank Sinatra to Sonny and Cher. Despite a history that dates back to 1871, all rooms at this luxury hotel include modern additions such as radios with MP3 players and flat-screen televisions. The Presidential Suite has two bedrooms, a full living room and a dining area.
Embassy Suites Chicago Downtown-Lakefront
The Embassy Suites Chicago Downtown-Lakefront is an all-suites hotel. One of the suite options is a two-bedroom, two-bath presidential suite. All of the suites at this hotel include microwave ovens and mini-refrigerators. A hot breakfast and evening cocktail reception is complimentary at the Embassy Suites Chicago. A fitness center and an indoor pool are on the premises. The hotel is in a convenient location, close to Navy Pier and near restaurants, shops and an amusement park. Go through the building next door and end up in the middle of Michigan Avenue.
Considerations
While you can find a place to stay with two bedrooms at some Chicago hotels, they are in the most expensive suites and have very limited availability. Be sure to book far in advance if you want one of these accommodations. If you are on a budget, consider getting two adjoining rooms. Many hotels have them, and the cost is often less than it is for a two-bedroom suite in a Chicago hotel.