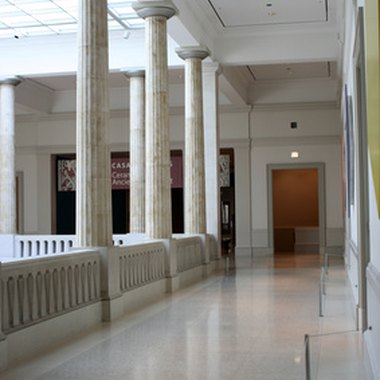 The Art Institute of Chicago is one of the world's premiere art museums, permanenlty displaying famous works of arts like Edward Hopper's "Nighthawks" and Van Gogh's "Bedroom in Arles." Visitors will have no problems finding a hotel near the Art Institute due to its convenient downtown location. Many of the hotels in downtown have a historic reputation and tend to fall under the "luxury" category. Expect to pay higher prices.
The Palmer House Hilton
Luxury and history combine in one of Chicago's most well-known hotels. The historic Palmer House Hilton welcomes guests with its ornate, decorative tall-ceiling lobby, which sets the tone for the entire establishment. Guest rooms have a similar appeal; luxury European-style linens, deep wood furnishings and showy lamps characterize each. iPod docking stations and wireless Internet access come standard. The hotel's full-service restaurant offers American cuisine in a casual, upscale environment. This is Hilton HHonors Reward Category 7 hotel. Guests can walk to the Art Institute as it lies just two block east of the Palmer House.
Hampton Majestic
The Hampton Majestic is located in downtown Chicago's theater district above the Bank of America Theater, just a few blocks from the Art Institute. The hotel features 135 vibrantly colored guest rooms with cutting edge contemporary furnishings and large windows. Standard in-room amenities include complimentary wireless Internet access, marble bathrooms and large flat-screen TVs. The hotel's special "Broadway In Chicago" package receive discounted room rates, complimentary valet parking, a CD and free breakfast with the purchase of a theater ticket. Guests in search of a meal will have no problem finding a nearby restaurant, a plethora of dining establishments lie within walking distance throughout downtown.
Congress Plaza Hotel
The Congress Plaza Hotel puts guests on Michigan Avenue across the street from the main entrance to Grant Park. The Art Institute lies just a couple blocks north of the hotel. This historic hotel dates back to the World's Columbian Exposition of 1893. Since then, numerous presidents, including Teddy Roosevelt, Calvin Coolidge and Woodrow Wilson, have slept here. The hotel has undergone numerous renovations, most recently in the 1960s, when escalators were added, a cutting-edge novelty for the time. Many guest rooms feature unobstructed views of Lake Michigan and Grant Park. The onsite fitness center is open 24 hours.
The Silversmith Hotel & Suites
Located in the heart of The Loop, a two-block walk from the Art Institute, the Arts and Crafts-styled Silversmith Hotel & Suites provides a centralized spot for exploring Chicago. The hotel was constructed in the late 1890s and retains much of its original charm and grace. Upon entry, a classic marble mosaic and grand staircase welcome guests. The rooms have a simple design that create a sense of simplified luxury. High-speed Internet is available throughout the hotel. The onsite New York influenced deli offers soups and salads for dine-in or to go.