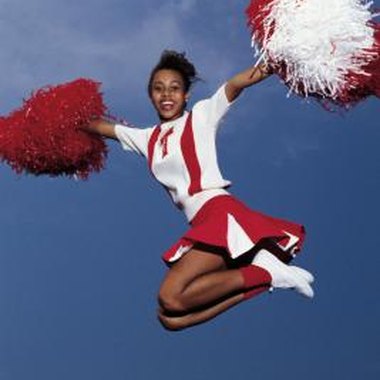 Whether your young cheerleader is looking for fun or serious competition, New Orleans is host to several well-established cheerleading camps. Campers receive training in drills, dance, stunts, gymnastics, cheers and chants. Some of the camp programs cater to individual girls, while others cater specifically to cheerleading squads or teams, who attend the camp together.
The Elmwood Fitness Center
The Elmwood Fitness Center (elmwoodfitness.com) offers a cheerleading summer camp program that combines cheerleading and gymnastics. The program is open to both girls and boys ages five and up. Campers spend their days rotating between gymnastics equipment, including a 100-foot tumbling strip, two trampolines, a double mini- and two full-spring floors. Cheerleading skills are also included in the rotation with campers learning cheers, chants, dances, jumps, partner stunts and pyramids.
New Orleans Outlaws
The New Orleans Outlaws (neworleansoutlaws.com) offers several cheerleading camp options at their facility. The camps are geared for school cheerleading squads. Camp dance is a team camp which includes a four-hour clinic on team dancing. The school also offers private camps which include learning two dances with incorporated stunts and cheers along with chant sequences. Other cheerleading skills and techniques are also taught at the camps.
Premier Cheerleading Association
Premier Cheerleading Association's (premiercheer.com) cheerleading camp is open to girls between the ages of 6 -14. Girls learn stunts, cheers, jumps and dance steps. Premier also offers a private squad cheerleading camp, where cheerleading squads from different schools can attend and receive instruction as a team.
Robert Royal Foundation
Robert Royal (robertroyalfoundation.org) of the Cleveland Browns, along with some of his NFL colleagues, bring his T.E.A.M. (Together Each Achieves More) football and cheerleading camps to New Orleans every year. The cheerleading camp is taught by cheerleaders from the NBA and NFL. Youth between the ages of 8 - 18 may attend the camp. Royal also leads a mentoring session in order to encourage campers to make the right choices in life.
Southwestern Cheerleaders Association
The Southwestern Cheerleaders Association (SCA) (scacheerleading.com) holds its New Orleans Luxury summer cheerleading camp at the Hilton New Orleans Riverside. The camp offers cheerleaders many technique workshops, including cheers/chants, dance, a jump-off, a tumble-off, spirit sticks, evaluations and a final competition. SCA is known for producing the first cheerleading competition in the state of Louisiana in 1985.
Photo Credits
Comstock/Comstock/Getty Images