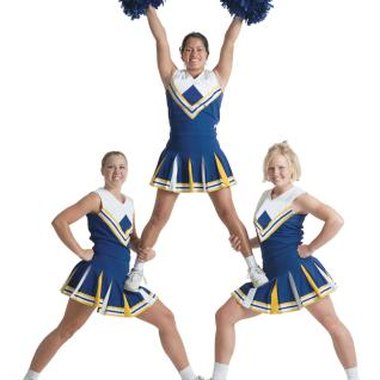 Cheerleading is one way to build strength, confidence and interactive social skills in children, teens and young adults. There are a number of cheerleading programs throughout Long Island, with summer camps at some of the most prestigious universities in the area. The person directing the camp, and the status they have achieved in the cheering community, should be the main factor when selecting a cheer camp.
Hofstra University Sports Academy Cheer Camp
Directed by Christine A. Nowierski and her Division I collegiate staff, the cheer camp at Hofstra University Sports Academy offers a robust program of flexibility training, jumps, stunts, pyramid building, motion techniques, sideline chants and dance. The cheerleading program at Hofstra Cheerleading won four UCA College National Championship titles (2003, 2006, 2007 and 2009) and everyone on the staff is AACCA (American Association of Cheerleading Coaches & Administrators) certified. The summer sessions run from July 5 through August 19, 2011 and cost $625 per one-week session and $1,025 per two-week session.
Future Stars Program at SUNY Farmingdale and Old Westbury, NY
The Future Stars Cheerleading program is offered at two SUNY (State University of New York) Long Island locations. One camp in offered in Old Westbury in Nassau County and the other camp is offered in Farmingdale in Suffolk County. Both programs are directed and overseen by Christine Farina, who is a four-year member and Head Coast of the Hofstra University Cheer Team. She has won many awards from 1997 through 2009 -- including leading her team to the 2009 UCA Small CoEd Division 1 National Championship. A NCA (National Cheerleaders Association) and AACCA certified instructor, Miss Farina and her staff offers a program of dance, jumps, tosses, pyramids, cheers and chants for summer campers from age 7 through 16. The summer sessions run from July 18 through July 29, 2011 and cost $475 per week session.
Champion Cheerleading Camp
Seven-time National Championship Winner Donna Roenbeck offers a private cheer camp located at the Gold Medal Gymnastics and Cheer Center in Rocky Point, Long Island. The program includes in cheers, chants, jumps, dances, motions and stunts in a low coach-to-cheerleader ratio. The curriculum also includes discussions of how to eat properly, the value of teamwork and how to set goals -- with a grand finale show at the end of the session to show off what they've learned at the camp. The cost is $185 per week session.
Five Star Sports and Entertainment Academy, East Rockaway, NY
Five Star Sports and Entertainment Academy of East Rockaway boasts the 2010 National All Star Cheerleading UCA Championship and has a competitive team that consistently ranks at or near the top of their division. Entry to the team is by invitation only. However, the center has a summer camp cheerleading program that is scheduled as part of a daily curriculum split between cheering for the first half of the day and participating in social activities for the second half of the day. The cheer program includes the fundamentals of cheering, back handsprings, as well as intermediate and advanced tumbling. The cost is $275 per week session.
Photo Credits
Photodisc/Photodisc/Getty Images