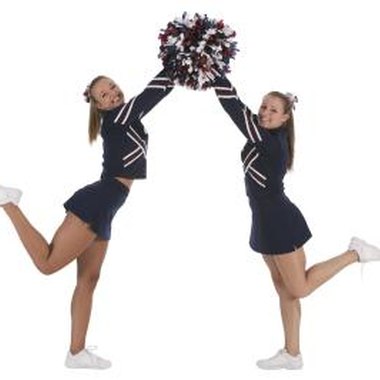 Cheer and dance provide an opportunity for children of all ages to learn physical and social skills for use in school, competitions, and recreation. Some children become cheerleaders and dance team members in high school or in college, and this provides a great platform to develop self-esteem and positive character skills. Cheer and dance camps are offered throughout Houston, Texas, and range from one day programs to summer camps.
Cheer Programs
University Cheer Air Force (universitycheer.com) offers programming which teaches both girls and boys leadership and competitive cheer skills. It prepares future cheerleaders for local, regional and national competitions as well as high school and college cheer. Cheer4U Cheer Camp (mycheer4u.com) provides instruction in cheerleading, dancing and performing. Its programs include training classes that end in performances five times per year. Vince Young Cheer Camp (10vinceyoung.com/VYcheercamp.htm) provides one-day cheer programs throughout the country, including one held at the Butler Sports Complex. Its one day programs are intensive skill training and are open to girls from age 8 to 16.
Summer Camps Featuring Cheer
Victory Vipers (victoryvipers.com) offers cheer and dance programs for both recreation and competitive sport. The program teaches tumbling, dance, gymnastics and cheer, and is open to both boys and girls ages 1 to 19. Victory Vipers teaches its students good self-esteem through a positive environment and sportsmanship. Kickapoo Kamp for Girls (kickapookamp.com) does not offer year-round programming, but is geared toward a summer camp experience which includes cheer, dance, aerobics and dance team practice. It has been in existence since 1925, and limits occupancy to 100 girls from ages 7 through 17.
Dance-Focused Summer Camps
Dance Houston provides a summer dance camp for students from ages 7 to 17 called No Limits (dancehouston.org/programs/summer-camps). Located in two places, one which meets at Soundbox Studios and one which meets at Wortham Theater Center, this summer camp provides daily programming in a variety of dance styles which builds grace, strength, and balance. The Little Gym (thelittlegym.com) provides non-competitive training for dance, gymnastics and coordination skills, which are useful in cheerleading. It caters to younger children from age 3 to 12 and offer daily summer programs.
Dance-Focused Programming
The Dance Studio (thedancestudio.info), located in northern Houston, teaches children tap, jazz, ballet, modern dance and hip hop with an eye toward cheer and dance team training for the future. Open to children from age 2 to young adult, it provides year round programming for kids who want to have a future in competitive and recreational dance and athletics. Stacey's Dance Studio (staceysdancestudio.com) offers classes in jazz, lyrical, ballet and pom pom skills, and is open to children and young adults. The owners of Stacey's Dance Studio also operate Stacey's Cheer and Tumble which teaches more athletic skills like gymnastics and agility.
Photo Credits
Comstock/Comstock/Getty Images