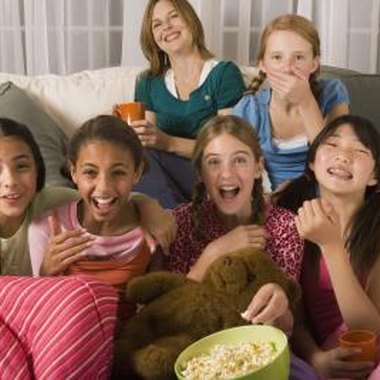 Planning a slumber party can be a major project. Making a checklist of things to do and supplies to have can be a huge help. Whether it is a birthday party or simply a weekend get together, there are several important things to have on your checklist to ensure that your child's slumber party is a success.
In the Planning Stages
The first thing you should have on a checklist for planning a slumber party is to talk with your child to get an idea of what kind of slumber party she wants. Find out if she wants a few close friends or a large group, what kind of theme or activities she may want to have for the party and what kind of food she wants. Consider your space, budget and time when talking through the options. Once you make a plan, select invites that go along with the party plan. In the invites, be detailed about the party plans and any requests you may have, including a pickup time for the morning. Send the invites early enough for guests to make plans, and don't forget to include RSVP and contact info so that you can plan for the right number of guests.
Games and Fun
Slumber parties are known for being fun and full of games, activities and goofing off. Your party checklist should include planning games and activities and obtaining any supplies that you may need. Activities should be based on the age group, number of children and theme of the party. For example, for a "Movie Night" theme, you will want to get at least a few different age-appropriate movies to keep the kids entertained and plan some fun movie-related activities for between movies. For any themed party, having board games, movies and activities on hand is a good idea in case the group gets bored or needs to be refocused.
Food
While the fun should continue during meal times at a slumber party, serving only pizza, soda and sweets may cause problems as the night wears on. Make sure that you have enough snacks to go around as it gets later in the night. You may want to consider some healthy snack options such as popcorn or fruit to keep the sugar rushes to a minimum and the kids happier. In addition to dinner, drinks, cake and snacks, don't forget about breakfast. A slumber party is not complete until the kids are awake and eating again. Also, when planning the food for the party, be sure to have enough plates, napkins, utensils, cups and clean-up materials on hand.
Other Considerations
In addition to the planning, activities, supplies and food, there are a few other things to add to your checklist for your child's slumber party. Make sure to plan enough space for each child to have ample and equal amounts of room for sleeping to avoid hurt feelings. Though each child may bring his own pillow and blanket, be sure to have enough pillows and blankets on hand in case they are needed. Also, you may want to have some activities to keep younger siblings occupied or make arrangements for them to visit a friend or family member during the party, as they may not be welcome at an older child's party.
References
Photo Credits
Jupiterimages/Brand X Pictures/Getty Images