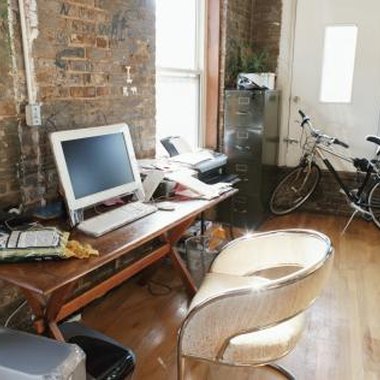 Sometimes, the cheapest way to get high-speed Internet is to bundle it up with other services. Depending on the area of Denver you live in, you might have a low-cost plan by adding Internet to the cable service you receive from Comcast or Time-Warner. Both Dish and Directv also partner with local providers for digital subscriber link, or DSL, plans and offer bundling discounts. For high-speed Internet, some of the biggest names offer bargain rates. But some providers are not available in all areas of Denver.
AT&T;
Those Denver areas with access to AT&T; home telephone service or customers who use AT&T; cellular service can add DSL high-speed service for $14.95 per month, a rate lower than many dial-up plans. If you get it as a standalone service without home or cellular service, it will cost $19.95 per month. The basic package includes a self-installation kit and a download speed of 768 kbps. To keep you connected when you are traveling, it offers free dial-up service nationwide and free access to AT&T; Wi-Fi hot spots if you have a wireless-enabled laptop computer.
NetZero
NetZero made its niche in the accelerated dial-up market. It has branched out to true DSL service at the type of bargain rates that fueled its nationwide growth. NetZero starts with a basic plan at $9.95 per month when you buy a wireless modem. Without a wireless modem, the base plan is $19.95 per month with a $2.95 monthly account maintenance fee. That allows users constant access to free, live customer support, which costs by the minute in its dial-up plans. NetZero basic offers a maximum speed of 3 Mbps, or megabits per second. All DSL accounts with NetZero include free Norton AntiVirus software, a free home modem and a free dial-up account as a backup. The dial-up plan included is normally $14.95 per month.
Qwest
Qwest specializes in high-speed Internet service. It partners with Directv in areas of Denver to offer a very low basic rate. The base package provides a speed of 1.5 Mbps, which is sufficient to download movie or large music files. It offers four other packages with speeds up to 40 Mbps. The base Qwest rate is $19.99 per month, or $14.99 when bundled with other services.
Toastnet
Toastnet provides low cost high-speed DSL-based Internet connections in Denver. Toastnet was originally aggressive in the dial-up market and has established a niche in Web design. Its basic DSL service is $19.95 per month with a $20 set-up fee. It boasts of offering free technical support to all its customers with American-based technicians.
Verizon
The cellular phone giant offers its base DSL package at $14.99 per month when it is bundled with home telephone service. The price as a standalone is $24.99, but you can reduce that to $19.99 by ordering it online. Online orders also receive a free wireless router. The base download speed of .5 to 1.0 Mbps is sufficient for music, but does not support streaming videos well. Verizon offers an enhanced package for $34.99 when ordered online that offers sufficient speed to easily download very large files and streaming videos. It includes free access to its Wi-Fi hot spots to customers who purchase the enhanced DSL package.
Photo Credits
Digital Vision./Digital Vision/Getty Images