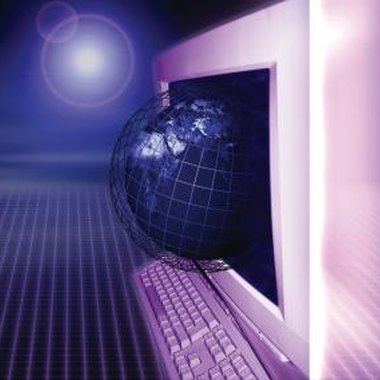 High-speed internet service allows you to browse the web, download files, connect with friends and play online games at comfortable speeds without compromising your cable TV or phone service. High-speed internet is also becoming a necessity to access video calling or inexpensive international phone service. When choosing a provider, it is important to determine how much speed you really need. Consider the reputation, reliability and extras you get with each provider's service and choose the one that offers what you actually need at a total cost that fits your budget.
Mediacom
Mediacom is an inter-state service provider of broadband cable, TV and phone service. It is a good choice if you live in suburban areas of St.Paul, and also offers service to some rural areas outside the city. Mediacom offers a bundled package including all of its services for around $29.99 per month if you sign up for a one-year contract, as of June 2011. The package boasts a huge download speed of up to 15 Mbps, free access to the ESPN3 website and unlimited local and long-distance calling.
Qwest
Qwest is the most widespread provider in the midwest, servicing all of St.Paul and surrounding areas. Qwest offers traditional DSL internet that uses your phone line, or can partner with DirectTV to offer Satellite Internet in more remote locations. In June 2011, Qwest offers bundled prices as low as $14.95 per month and starting at 1.5 Mbps download speed. Prices increase as the speed increases, and while 1.5 Mbps seems low compared to Mediacom, it is a standard speed that is usually more than enough for casual use. Quest also offers free Wi-Fi at supported locations to its subscribers, along with online backup, web space and anti-virus. Since Quest is a "backbone" company and not a reseller, you may get better service and reliability. It does require a contract, and cancellation fees can be expensive.
USI Wireless
USI Wireless is a unique provider in that it offers high-speed wireless service that is only limited by where you are located in relation to a supported hot spot. This is a great choice if you travel often, are a student or like to use your Internet on the go. For as low as $19.95 per month you can get 1Mbps of download speed from anywhere in the Twin Cities. Wireless modems for your home may cost an additional rental fee or up-front purchase cost, and are available directly from USI.
Charter Cable
Charter Cable is the only BBB Accredited business on this list and is an authorized broadband reseller of coaxial cable internet, TV and Voice over Internet Protocol (VoIP) service. It offers many of the same services and perks as Qwest, and allows you to build custom packages to fit your needs. The basic internet package starts at $19.95 for 1 Mbps download. Charter runs promotions on a regular basis that may reduce your cost or increase your perks, but be sure to read the fine print, as many of them require a long-term contract.
Resources
Photo Credits
NA/Photos.com/Getty Images