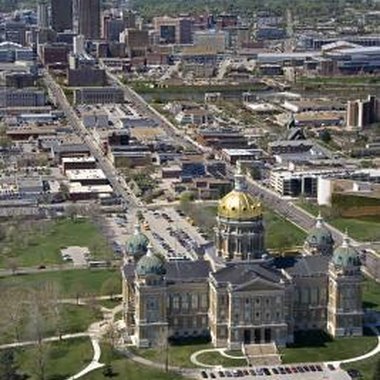 The capital of Iowa, Des Moines, advertises a combination of big-city amenities and small-town charm. By most standards, quality of life is high in Des Moines. Business, residents and visitors all enjoy the benefits of a healthy economy. Access to affordable high-speed Internet is one of these benefits, as several Internet service providers offer package deals to consumers in the Des Moines metropolitan area.
Mediacom
Mediacom offers cable television and high-speed Internet in Des Moines. Subscribers can bundle these services together and see a discount on their monthly bill. Mediacom's Online Intro service provides download speeds up to 3 Mbps and 24/7 technical support. The Online Intro service also includes pop-up blocking and anti-spam software. New subscribers who are unhappy with Mediacom's Internet service have the benefit of a 30-day money-back guarantee.
Qwest
The telecom company Qwest offers reasonably priced DSL Internet service. The basic package offers download speeds of 1.5 Mbps, much faster than traditional dial-up service. DSL signals travel over phone lines, but don't interfere with voice transmission. Subscribers receive a full suite of virus protection, online backup and warranty coverage in the event of disaster. As a bonus, all Qwest subscribers have free access to all AT&T; Wi-Fi hotspots in Des Moines at no charge.
AT&T;
AT&T;'s wireless network encompasses all of central Iowa, including the city of Des Moines. DataConnect packages allow subscribers to download a specific amount of data before incurring overage charges. Packages start at 3 GB and permit unlimited access to Wi-Fi hotspots. Access to the network requires a LaptopConnect card or USB wireless modem. Specialty plans are available for the Apple iPad and other tablet devices, with data access sold by the gigabyte.
Starband
Starband offers satellite Internet service with free equipment and installation after a mail-in rebate. Service is available in three packages: Nova 500, Nova 1000 and Nova 1500. The Nova 500 package gives customers top download speeds of 512 Kbps. Five email accounts, each with 7 GB of storage, are included with the Nova 500 package. Online support is available 24/7, with live customer support during business hours. Starband imposes usage limits to ensure a fair experience for all subscribers.
Photo Credits
Thinkstock/Comstock/Getty Images