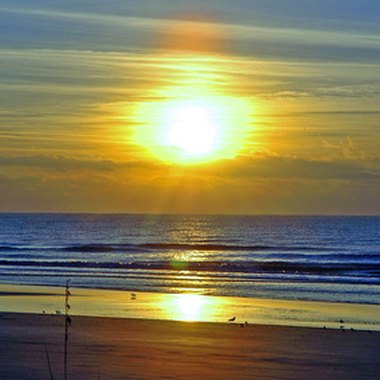 Although it is one of the most historic port cities of the American South, Charleston is more than just a city of antebellum charm and stately mansions. It is also a beach destination, which is why many visitors prefer to stay in a hotel or resort located on the beach rather than in the city.
Locations
The closest beaches to Charleston are at Sullivan's Island, the Isle of Palms and Folly Beach. Sullivan's Island is 10 miles to the northeast the Isle of Palms another five miles further up the coast. Of the two, visitors will find far more hotel options on the Isle of Palms than Sullivan's Island, which is better known as a restaurant and bar-hopping destination. Folly Beach is the farthest from the city at 25 miles. The well-known resort at Kiawah Island is over an hour's drive from Charleston, making it less convenient for a visitor contemplating regular trips into the city.
Holiday Inn Folly Beach
The Holiday Inn of Folly Beach does not offer the typical big mid-range hotel experience that one would come to expect from that chain. Instead, this outpost of the Holiday Inn is a small 14-room place offering what are essentially nicely appointed 1960s-style motel rooms with some character, such as the dark wood paneling that graces many of the rooms. The hotel is also only one block from the beach, but visitors should be aware that Frommer's described Folly Island as "a funky Coney Island-type amusement park" and "the least pristine beach in the area."
Wild Dunes Resort
Frommer's described the Wild Dunes Resort as a competitor of Kiawah Island, and gave it a "Highly Recommended" rating. Sitting on a 1,600-acre private enclosure on the north end of the Isle of Palms, the resort has so many different sets of accommodations that these have merited individual ranking from other organizations, such as the Village at Wild Dunes, which AAA gave a four-diamond rating in and of itself. Rooms, suites and rental villas are all available, and aside from the beach access, the resort has two separate 18-hole golf courses.
The Ocean Inn
The Ocean Inn looks a lot like a brick apartment building, and from a tourist's point of view that is essentially what it is. Located on the Isle of Palms just one block from the beach, the inn offers one- and two-bedroom apartments with kitchenettes as vacation rentals. The Ocean Inn also accepts pets, creating a combination of elements that make it a logical choice for families or long-stay visitors to the beach in the Charleston area.
Photo Credits
sunset at isle of palms,sc image by Herbert Frank from Fotolia.com