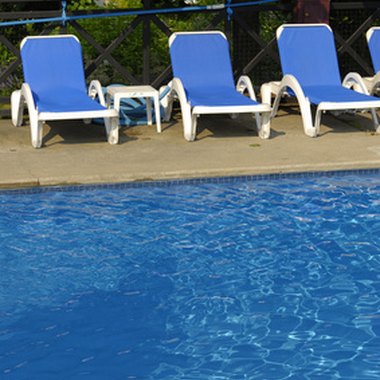 Champaign, Illinois, is best known as the home of the University of Illinois, which actually straddles the cities of Champaign and Urbana. Between the Big Ten Conference sporting events, entertainment venues and student activities, there are enough people traveling to this area to keep more than a dozen hotels busy. It's hard to find one with an outdoor pool, though, since the winters in this Midwest town can be quite brutal.
La Quinta Has It
As of 2010, La Quinta Inn was the only hotel in Champaign that had an outdoor pool. The hotel's location is ideal, just off the highway and about 10 minutes from the university. It's across the street from two shopping centers, the Market Place Mall and numerous restaurants, including Bob Evans right next door and Chevy's across the street. The hotel allows pets and offers free high-speed Internet, a business center and daily complimentary breakfast.
Drury Inn's Pool For All Seasons
The Drury Inn in Champaign has come up with a concept that works with everyone – and every climate. It has a pool that is half indoors and half outdoors. The pool isn't the only amenity at Drury Inn. A hot breakfast, wireless Internet and an evening social hour with drinks and snacks are all complimentary. If you are still hungry, this hotel is next door to Lone Star Steakhouse. You will also find two shopping centers within walking distance.
Other Options
Since there aren't many hotels available in Champaign, Illinois, with an outdoor pool, consider picking a hotel that has other amenities you'd like and using one of the public pools. You do not have to be a resident to enjoy the Sholem Pool, for example, which includes water slides, interactive kiddie pools, a lazy river and an eight-lane lap pool. Food and changing facilities are available so you can make a day of it.
Considerations
If you have any flexibility in your visit to Champaign, try to do it when school is not in session. Hotels can fill up months in advance, especially during peak weekends such as homecoming and graduation. During the summer and winter months between semesters rates at hotels – as well as airfare to the nearby University of Illinois Willard Airport – typically plummet. You should be able to find a low-cost room with a swimming pool in the location you prefer.
Warning
Even if you have a hotel with an outdoor pool in Champaign, there's no guarantee you will be able to use it. Hotel and public pools are open seasonally due to unpredictable weather in this area. Spring and fall temperatures can vary dramatically. Summer is also the height of the storm season and while tornadoes rarely hit Champaign directly, outdoor pools will close if there is the slightest chance a twister or lightening storm may occur.