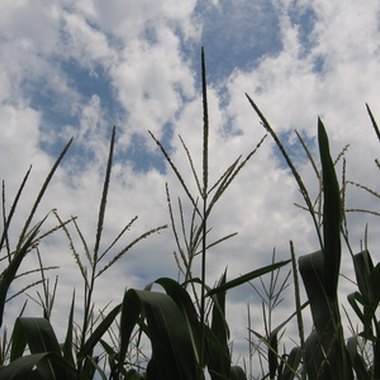 If you're traveling on Interstate 80 or Interstate 35 through the Midwest, chances are you will cross central Iowa during your trip. Central Iowa towns such as the capital city of Des Moines, offer motels that are a short drive from attractions such as the Antique Mall when staying in Story City or Grinnell College when visiting Grinnell. Many motels are just off of the interstate.
Story City
Situated just off of Interstate 35, the Super 8 Story City is a three-minute walk from the Antique Carousel Mall. Rooms feature free Internet access; some rooms feature kitchenettes and whirlpool bathtubs. Non-smoking and smoking rooms are available. Pets are allowed to stay in guest rooms for an additional fee. Additional hotel amenities include a small business area with fax services and a complimentary breakfast. Located one mile from the River Bend Golf Course and the Grand Opera Theater, the three-story Comfort Inn offers 60 rooms and suites. Rooms include free Internet access, whirlpool bathtubs and kitchenettes. Rooms consist of wall papered lined walls with vases of flowers throughout. Services and amenities range from an indoor swimming pool, hot tub and complimentary breakfast. \
Des Moines
The Baymont Inn and Suites, just off of Interstate 80, offers a complimentary breakfast, indoor swimming pool and fitness center. Guest rooms include free Internet access; select rooms provide a whirlpool, refrigerator and microwave. Rooms are decorated in yellows and creams and include archways over the windows. Nearby local attractions include the Iowa State Fairgrounds, five miles away, and the Blank Park Zoo, eight miles away. Situated off of Interstate 235, the Quality Inn and Suite Event Center provides 155 rooms with either one or two bedrooms. Rooms offer free Internet access, Serta Quality mattresses and seating areas. The on-site Governor's Lodge prepares pork chops, pizza and steak sandwiches. Additional on-site amenities include an indoor swimming pool, fitness center and a complimentary breakfast. The Des Moines Art Center, which includes the history of Des Moines and the Des Moines Botanical Center, are both less than four miles away.
Grinnell
The smoke-free Country Inn and Suites provides spacious guest rooms with free Internet access, kitchenettes and living areas with pull-out sofas. If traveling for a romantic getaway, the whirlpool suite offers a king-sized bed and whirlpool bathtub for two. Hotel services include a complimentary breakfast, fitness center and an indoor swimming pool. Less than one-half mile from Interstate 80, the hotel is also approximately one mile from A.J.'s Steakhouse, where you dine on a selection of meats that you can grill yourself at your table. The pet-friendly Comfort Inn and Suites is four miles from the Faulconer Gallery at Grinnell College and less than two miles from Carroll's Pumpkin Farm, which offers a corn maze and goat feeding. The 66 guest rooms include complimentary Internet access; some rooms offer kitchenettes and whirlpool bathtubs. The hotel has a two-pets-per-room limit and fees may apply. Hotel amenities consist of an indoor swimming pool, complimentary breakfast and a game room.
Coralville Hotels
The Best Western Cantebury Inn and Suites' brick facade with turret and stain glass windows create an Old English-style feel. The 101 spacious gust rooms with canopy king or queen-sized beds include sitting areas and Internet access. Pets are allowed only in smoking rooms for a daily fee. Hotel amenities include two hot tubs, an indoor swimming pool and a complimentary breakfast. A cocktail lounge is located on-site. An eight-minute walk from the Coral Ridge Mall, the five-story Holiday Inn Express includes 80 rooms with free Internet access, mini-refrigerators, microwave ovens and complimentary newspapers. Some suite rooms include a sitting area with a pull-out sofa. An indoor swimming pool surrounded by a beach scene mural, a fitness center and a hot tub are on-site. The Mangolian restaurant, HuHot, is a one-minute walk from the hotel.