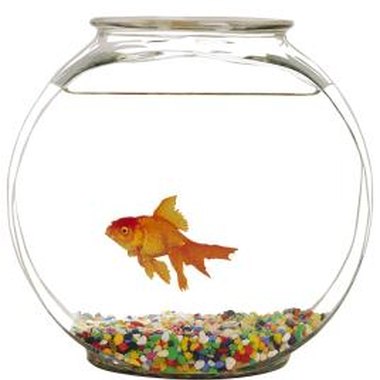 "Under the Sea"-themed parties can be magical; imagine a room decorated in bright, tropical colors with shells, fish, corals and mermaids. You can purchase pre-made decorations with fish and mermaid themes at party supply stores, but it's more fun --- and often cheaper --- to make your own. With a bit of creativity and some basic supplies, you can make table decorations that impress your guests and set the mood for a party that "makes some waves."
Fishbowls
Decorate your tables with real sea life --- goldfish! Place small fishbowls filled with goldfish and distilled water in the center of each table. In the bottom of the bowls, you can put colored gravel, glass pebbles, bright artificial plants or even small ceramic castles. (Just be sure that anything you use is aquarium-safe.) Be nice to your goldfish and ensure they'll have homes after the party; you can give away these pets as party favors.
"Sea Anemones"
Sea anemones, found anchored on coral reefs, are beautiful but delicate. But anemone flowers are just as beautiful and can be found at local florist shops. Buy bouquets of anemones and display in vases on your tables -- or, right before the party, snip off the stems just below the heads and float them in glass bowls of water.
Sand Castles
Bring the sea floor indoors by decorating your tables with sand castles. Pick up a few large glass or plastic bowls from a discount store. Before the party, fill the bowls with moistened sand and sculpt mini-sand castles. Decorate your castles with small shells or pretty pebbles. (Keep these castles away from areas where food is served.)
Edible "Sea Treats"
Make or purchase candies, chocolates and cookies in the shape of shells and place in the center of your tables. To make shell-shaped chocolates, melt good-quality chocolate chips in a double boiler and pour into a shell-shaped mold. Let cool and invert onto a plate. Or, make a simple sugar cookie dough, roll it out flat and use a sand-dollar-shaped cookie cutter. Sprinkle fine white sugar over the cookies and bake. A glass mirror makes a great platform for these treats (be sure to sterilize the surface before placing food on it.)
References
Photo Credits
Comstock/Comstock/Getty Images