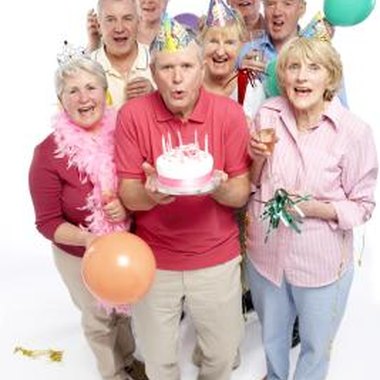 When you're planning for a birthday party for elderly grandparents or friends, one clever way to add an extra layer of fun to the festivities is to have a theme, and to decorate and dress the table accordingly. Incorporate the birthday party theme for your elderly celebrant into the centerpiece.
True Hue
Perhaps color will be theme at your party. If you're throwing, for example, a black and white ball for the elderly guest of honor's birthday, think of inventive ways to incorporate these two colors into your tablescape. One very inexpensive, unique and eye-catching option is simply spray painting some tree branches white and some black, and standing them up in vases. Tie black ribbons and white ribbons around the vases, and add some black and white candles for twinkle and sparkle.
Therapeutic Thinking
If the party theme is celebrating the guest of honor's profession, tie this theme in with your table décor. For example, if he was a nurse or a doctor, go with a medical-themed centerpiece. Use a crisp white tablecloth reminiscent of a doctor's coat. Cluster glass vases of various sizes in the center of the table and fill them with tongue depressors, empty prescription pill bottles, stethoscopes, Band-Aid boxes, gauze, medical scissors, medical tongs, cotton balls and thermometers.
Heritage Notion
Another theme that will be enjoyable for the elderly person and can also be easily incorporated into a centerpiece is celebrating that person's culture. For a Japanese theme, use a vase full of Asian lilies, and lean against it a scroll that says "Happy birthday" in Japanese calligraphy. Or use a large, colorful Japanese lantern. For an Italian theme, use the red, white and green of the Italian flag in a flower, balloon or candle cluster centerpiece.
Trait Concept
Use the celebrant's personality and lifestyle as the party theme and centerpiece inspiration. If the elderly person loves going for her daily ride, use a toy bicycle as a table centerpiece. If she loves gardening, use a flower pot or watering can filled with a bouquet of fresh flowers. If her dog is her best friend, have a cake made that either looks like the pet or that features a picture of her and the dog, and place it in pride of place on the table.
Photo Credits
BananaStock/BananaStock/Getty Images