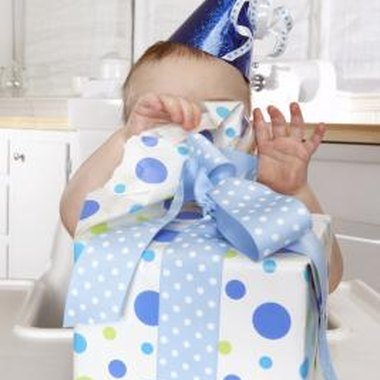 Little boys love playing with cars and trucks of different shapes and sizes. If your little guy wants a car-themed party, make a car centerpiece for the big day. Making your own centerpiece takes little time and, if you use items from around your home, little money out of pocket.
Cake
Save money on a centerpiece by using the cake as the centerpiece, since you will be making one for the guests anyway. Stack four full-sized sheet cakes on top of one another. Use a serrated knife to carve the cakes into a car shape. Cover the surface of the cake with a layer of frosting. Then, cover the frosting with a layer of rolled fondant. Decorate the cake to look like your child's favorite car, adding details such as headlights, door handles, windows and tires, using colored fondant. Or, if your child is race car fan, make a race track on a sheet cake. Cover the cake with green frosting to create grass. Create a circular track on the cake and place small, toy cars on the track. Make the track out of black frosting or a dirt track using graham cracker crumbs.
Balloons
Purchase large Mylar balloons with cars on them or in car shapes from your local grocery store in the florist department or from a party supply store. Include a few latex party balloons to the bunch to add additional colors. Tie the bouquet to the neck of a vase. Fill the vase with colored marbles or gumballs that match the party's colors. Place the vase and the balloons on the table. Or, instead of a vase, tie the balloons to large toy cars and trucks to act as balloon anchors.
Toys
Fill clear vases with toy cars. Let the party guests choose a car from the vase as prizes for party games or as a favor when they leave the party. Or, consider a large, stuffed car-shaped pillow placed on the table. Or, set up a toy car race or stunt track on the table. Tracks double as an activity for the children.
Cookie Bouquet
Use a cookie bouquet as a centerpiece. Cookie bouquets are cookies placed onto skewers that are then put into a vase to create a floral-looking bouquet. For a car-themed bouquet, use car-shaped sugar cookies. To make your own, prepare a batch of sugar cookies and cut them using car cookie cutters. Insert skewers into the bottom of the cookies and decorate them with frosting. Insert a piece of florist's foam into the bottom of a vase. Press the skewers into the foam to create the bouquet. In addition to car cookie cutters, cut out circles to make tires and steering wheels.
Photo Credits
James Woodson/Digital Vision/Getty Images