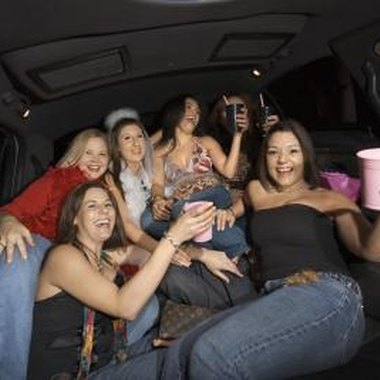 Celebrity games are suitable for a bridal shower because everyone usually knows the celebrities, so it's easier to involve all participants. They may require some preparation if you're the one throwing the party, such as doing some research in magazines and online, and perhaps some improvisation from participants as well. Still, it takes only a little work beforehand to come up with games sure to provide hours of party entertainment for all.
Celebrity Brides
Prepare for this game by gathering a few bridal magazines and other magazines that contain pictures of celebrities. Hand out one or two bridal magazines and two other magazines to each guest along with scissors, a piece of paper and glue, and ask each participant to create a collage of a celebrity in a wedding gown. Create an example and use the face of a male celebrity in a designer dress to break the ice and encourage the guests to unleash their creativity and make funny collages. To make things simpler for the guests, cut out a few faces and dresses before the party so the participants can put a few elements together without having to flip through magazines and cut out the pieces.
Celebrity Trivia
This game is more popular with women, because they are likely to know more about celebrities, but men may also have fun. Prepare 10 to 20 questions about celebrity weddings, couples and babies. Ask each guest to write down the response for each of the questions. Each correct answer gets one point. The guest with the best score receives a small prize.
Celebrity Brides and Grooms Gossip
Find pictures of celebrity brides in magazines and look for dramatic dresses, bad makeup, intriguing poses and a few nice shots as well. Hand out the pictures or prepare a slide show and allow the girls and boys to gossip and vote on the best/worst hair, makeup, dresses and overall appearance. If you find pictures with male celebrities dressed as grooms, rate them and decide "who's hot and who's not."
Celebrity Couples Match Game
Do some research on some celebrity couples and write down the names of female celebrities in one column and male celebrities in another column. Ask the bridal shower participants to match the celebrity couples in three minutes. To spice things up, include some single celebrities and celebrity couples that have split in your columns and mention that not all celebrities have a match. A variation of this game is to choose famous love triangles and make three columns with names. This game can be a starting point for discussion. You can talk about your favorite celebrity couples and how long you think they will last.
Photo Credits
Thinkstock/Comstock/Getty Images