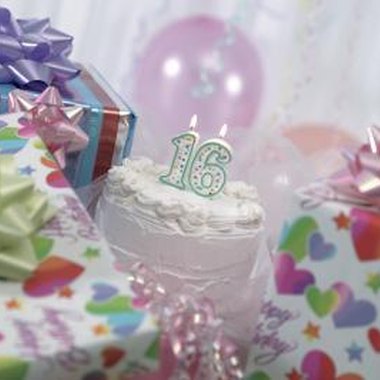 Turning 16 years old is a big deal for teenagers. It is only natural that they desire a birthday bash that trumps all of their previous celebrations. While it may be a wallet's worst nightmare, rest assured that a sweet 16 party does not have to break the bank of any parent. A celebrity-themed 16th birthday party may sound expensive, but you can throw an elegant and stylish party for your child with even the most inexpensive of party supplies.
Venue and Decor
For a celebrity theme, the venue should be roomy enough to accommodate all of the ravishing guests. If you're unable to afford a venue, make it a celebrity "after-party" and host it in your backyard. Sheer fabric canopies surrounded by flame-less candles add ambiance and elegance to a celebrity-themed sweet 16 birthday party. A "wall of fame" may be created by hanging magazine photos of celebrities on the walls of the venue. Gold stars, director's chairs and a large Hollywood sign cut out of poster-board will create a celebrity atmosphere. Finally, a celebrity-themed sweet 16 party is not complete without a red carpet. Purchase red fabric from a craft shop and place it outside of the venue for your guests to walk on.
Activities
Have guests dress up as their favorite -- or least-favorite -- celebrities. At the party, host a "Guess That Star" contest, in which guests try to figure out who each person is impersonating. Be sure to mention the game on the invitations so that guests do not blow their cover before the big event. If possible, rent a limousine and take guests out for a cruise around town. Before each guest hands the guest of honor a gift, require him to give a speech similar to an awards ceremony speech.
Entertainment
Instead of shelling out thousands of dollars for a real celebrity for the party, search for local impersonators. Invite the impersonator to your party and set up a photography station where guests may take pictures with the impersonator. If celebrity impersonators aren't the birthday girl's thing, opt for a live band. There is no need to spend loads of money. Instead, search for a local talent to perform at your celebrity 16th birthday bash. An awards show is likely to serve as humorous entertainment for your guests. Vote for best dressed, best impersonator, best dance skills and best makeup, among other honors.
Food and Beverages
Food shouldn't cost a fortune. Even if you have the party catered, choosing simple dishes is likely to be easy on the wallet. Keep in mind that celebrities typically eat smart to maintain their health and fitness. Food such as tuna salad, steamed vegetables, grilled chicken and yogurt are acceptable and easy to prepare for a celebrity-themed party. Set out fruit bowls and plenty of nuts for snacking. Just make sure you have enough for all of your guests so that you don't run out at the party. Drinks could include sparkling water or carbonated juices in wine glasses.
Party Favors
Purchase plastic metallic-colored bags and fill them with goodies such as cosmetics for the females and body spray for the males. Other items such as stylish sunglasses, movie tickets, Polaroid photos of the guest at the party, or a popular movie or CD are likely to go over well with guests. If the party is held at night, glow-in-the-dark accessories are also acceptable. Be sure to have prizes for individuals who win the awards. Prizes might include gift cards, concert tickets, plastic trophies or a digital camera.
Photo Credits
Comstock/Comstock/Getty Images