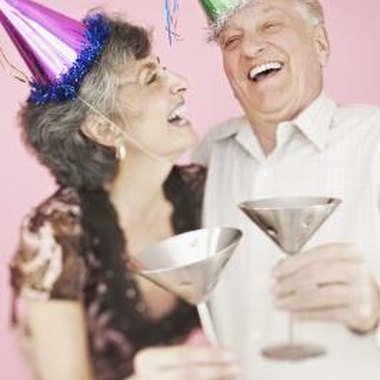 People celebrate the New Year in different ways. Some people can't imagine ringing in the New Year anywhere other than at a party, restaurant or club. Others prefer to stay home and watch the ball drop in Times Square on television. If your plan for the upcoming New Year is to spend the evening at home with your wife, there are several ways you can celebrate at home without becoming bored or tired and unable to make it to midnight.
Step

1
Cook a meal together. Rather than your everyday dinner, make your New Year's Eve dinner specific to the holiday by cooking foods that are considered lucky. Start with a salad; greens are considered lucky foods to eat on New Year's Eve because they are the same color as money. Make fish for the entree; fish is considered lucky because the scales resemble money and fish swim in schools, which represents abundance. Wrap up your meal with fruit. In a Spanish tradition, 12 grapes are eaten, one at a time. Each grape represents one of the months of the upcoming year. For each sour grape you eat, that month is considered bad or unlucky. Sweet grapes represent good months.
Step

2
Order in, if cooking isn't your style. Go for Chinese; noodles are considered a symbol of long life and eating them on New Year's Eve is considered lucky. To add more luck to your year, slurp the noodles whole when eating. Pork is considered lucky because pigs are healthy and fat.
Step

3
Talk about the past year with your wife. Discuss the highs and lows and use them to start your list of New Year resolutions. Reviewing both the good and the bad events of the previous year helps you figure out what you need to change to make the upcoming year better.
Step

4
Throw your own party for two. Decorate your house with New Year's banners and streamers. Have plenty of confetti on hand and noisemakers to use when the clock strikes midnight. Wear party hats, turn on music and dance until the magic hour.
Step

5
Watch the ball drop in Times Square on television. Every year there is a New Year special on television complete with a celebrity host and famous entertainers.
Step

6
Pop open a bottle of champagne in the last few minutes leading up to midnight. Pour two flutes and toast the New Year. When midnight strikes, give your wife a big New Year's kiss.
Photo Credits
Jupiterimages, Brand X Pictures/Brand X Pictures/Getty Images