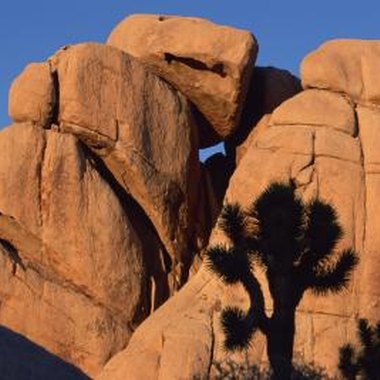 In the Mojave Desert of Southeastern California is a national park the size of Rhode Island. Named for one of its flora, Joshua Tree National Park spreads across sections of San Bernardino County and Riverside County. Within the park is a moonscape of great boulders called the Wonderland of Rocks. Within that moonscape, the boulders have settled together creating many small caves.
Fracture Geography
More than 100 million years ago magma pushed toward the surface of Wonderland, where it would cool just before it reached the top. Layers of this cooled, solidified magma created shelves of stone that were then forced to the surface. This material is called monzogranite and it developed rectangular joints of looser material that was eventually eroded by water, leaving vast fields of semi-symmetrical boulder, some stacked precariously on each other and some toppling into piles. These piles left countless spaces, some large and some small. Some of these caves are big enough for people to take shelter.
Preparation
When you go looking for caves at the Wonderland of Rocks, take the place seriously. The average altitude is 4,400 feet and there are dramatic temperature extremes between day and night. Bring layers to dress up and down for temperature shifts. The terrain is more than merely rugged, so a 100-foot safety rope is a good idea. Have plenty of water and enough calories in food to fuel some strenuous activity. A small first aid kit is important, as is some form of communication in case a member of your party is injured. Look before you reach if you are climbing. When the rocks warm during the day, the rattlesnakes sun themselves there.
Hunting Caves
If you are looking for caves, first find a piece of high terrain with good visibility all around. With a pair of binoculars, you will be able to spot caves, then plan a climbing route to get to them. Boulder-climbers have the best chance of encountering caves because they scrabble over the rocks instead of confining themselves to the trails. Bouldering requires a good pair of friction boots and some skills.
Rules
Rules that apply to cave hunters are: no pets, carry out all your trash when you leave, be out by nightfall unless someone is hurt and waiting for assistance, no camping, and if you encounter indigenous artifacts in the caves or anywhere in Wonderland, do not touch or remove them. These caves were used by indigenous people for thousands of years. If you encounter petroglyphs or rock art, you are required to stay at least 50 feet away from them. If you plan to conduct technical climbs to get to caves, do not drill rock and do not leave fixed anchors on the rock faces. Brush your climbing chalk off the rock surfaces where possible.
Photo Credits
Comstock/Comstock/Getty Images