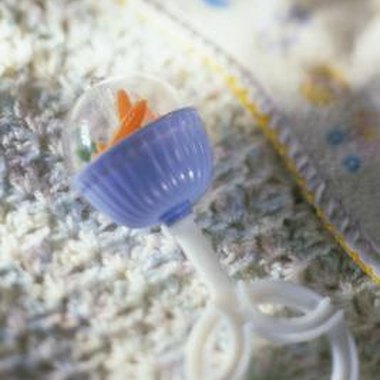 A baby shower gives a woman's friends the opportunity to help her celebrate the upcoming birth of her baby. Decorating for the shower counts as part of the fun of the event. If you're making decorations for your friend's shower, consider creating a shower-themed centerpiece for the occasion such as a cascading rattle centerpiece. A piece like this is not only decorative, but with the right materials can become a keepsake as well.
Theme
Successful baby showers usually rely on a theme. This theme dictates what kinds of decorative elements the party will feature, including colors and visual motifs. A baby's rattle is a common item at a baby shower. To make your centerpiece mesh well with the rest of the decorative elements of the party, choose flowers and ribbons that feature the colors of the baby shower. Very often the colors reflect the gender of the baby, so this also helps you to acknowledge the upcoming baby through your centerpiece.
Rattles
A number of different possibilities exist for the types of rattles you can use on an arrangement like this. If the mother-to-be likes old-fashioned items, look around estate sales or auctions for antique rattles. If your friend likes uniformity, choose rattles that feature the same design. Also, in general look for rattles that include some sort of graphic element like baby's booties or an illustration of a baby; this adds a touch of whimsy to the centerpiece.
Considerations
Many times the mother-to-be keeps the gifts and decorations from the baby shower as special mementos to give to the baby after she grows up. Choosing silk flowers instead of live flowers for the centerpiece gives the mother-to-be the option of preserving the centerpiece. If you like the idea of working with fresh flowers, consider making a second similar centerpiece of silk, and make the centerpiece for the party from fresh flowers.
Putting It Together
The flowers along with a few decorative items from the floral shop gives the centerpiece its cascading look. Add clear glass marbles to the bottom of a clear vase; this provides weight for the centerpiece so that it doesn't tip over. Insert bouquet holders into the vase -- two or three will give you a good foundation on which to build the centerpiece. Add greenery like fern leaves or myrtle to the bouquet holders. These should cascade down the front and sides of the vase, so pick long ones. Insert baby's breath and flowers like pink tea roses into the center. Fasten the baby rattles to green florist's picks, looping the wire around the end of the handles. Wire a few of the rattles to the greenery as well. Once you do that, tie colored ribbons in the shower's colors around the place where you wired the rattles onto the greenery to cover up the wires (see Resources).
References
"Trading Spaces: Make It Yours"; Brian Kramer, editor; 2004
Photo Credits
Comstock/Comstock/Getty Images