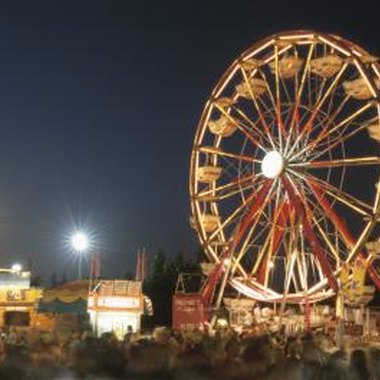 Along the shores of Lake Erie, residents and visitors in Lackawanna are just a stone's throw from Buffalo -- about 5 miles. They have advantages when it comes to carnivals. They only have to wait three weeks into each new year before enjoying their first carnival, the Buffalo & Erie County Historical Society's Winter Carnival. A month later comes the Buffalo Powder Keg Winter Festival, and with the arrival of summer comes the Juneteenth Festival, then the Erie County Fair opens two months later. The following month everyone can celebrate the beauty of fall with the Quaker Arts Festival.
Buffalo Winter Carnival
The Buffalo & Erie County Historical Society's all-age, indoor/outdoor Winter Carnival (buffalohistory.org) usually takes place on every third Sunday of January from 1 to 4 p.m. Both indoor and outdoor activities are available. They include face painting, arts and crafts, scavenger hunts, music, locally made baked goods, and free hot chocolate. Outside, all can go snowshoeing, sledding, snowman building, and watch Iroquois winter-game demonstrations.
Powder Keg Winter Festival
The motto of the Buffalo Powder Keg Festival (nfta.com) is, "We don't fear winter. We revel in it. We wear the snow belt like a badge of honor!" Its purpose is to bring the extended local community together and help put the area's notorious winter in the national spotlight for the right reasons -- emphasizing that, "This is a fun place to live and visit." This festival takes place during the last week of February with activities that include snowshoeing, cross-country skiing, tubing, a Guinness Book-winning Ice maze, horse & carriage rides, giant seesaws, snow volleyball, broomball, soccer, sled racing and snow kite surfing, plus food, hot cider, hot chocolate and beer. The Festival culminates with a fireworks display.
Juneteenth Festival
Initiated in 1976 as a "culturally relevant alternative to the country's Bicentennial Celebration," the Juneteenth Festival (juneteenthofbuffalo.com) has a mission to promote and preserve the broad African-American heritage through cultural and educational activities to benefit the overall community. Occurring third week of June, at this event -- the third-largest Juneteenth Festival in the country -- entertainment and festivity are abundant, with murals being painted and vendors setting up booths to sell ethnic foods and wares.
Erie County Fair
Founded in 1819, the Erie County Fair (ecfair.com) has grown to become a 12-day event held each August with fairgrounds spanning 275 acres. The nation's third-largest county fair takes place during the second and third weeks of August. Its attendance each year tops 1,000,000. Attractions include agricultural exhibits and competitions, top-name music concerts, demolition derby, talent contest and Native beadwork competition. The Midway, a standalone carnival itself, has been staged by James E. Strates Shows, arriving every year by train since 1924 and featuring 70 rides and 100 games.
Quaker Arts Festival
This festival displays the art of more than 300 artists and craftsmen exhibiting their best and most-creative work, competing in this juried show for more than $10,000 in prize money. Started in 1961, the Quaker Arts Festival (opjaycees.com) features fine art, graphics, photography, sculpture, ceramic/pottery, fiber, leather, floral design, glass, jewelry, mixed media and woodworking. It takes place during the third weekend of September and annually attracts more than 50,000 attendees, becoming the largest suburban arts festival in western New York.
Photo Credits
Hemera Technologies/AbleStock.com/Getty Images