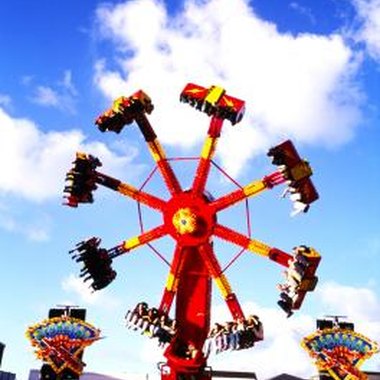 The Philadelphia area has a full schedule of carnival events, each one with unique activities and features. Most of the carnivals around Philadelphia are held between May and October, so it's a good time for travelers to visit or for residents to plan an entertaining stay-cation (a vacation at home) around their favorite event.
Philly Carnival
Philly Carnival (phillycarnival.com) is a celebration of West Indies culture and art forms. The event takes place each year on Father's Day weekend in July. The central event of Philly Carnival is a parade that features floats, dancers, singers and musicians. The route is located on Columbus Blvd., from Washington Ave. to Spring Garden. Along the route, expect to see live Caribbean music, costume contests and local food vendors serving up authentic West Indies cuisine.
Penn Relay Carnival
The Penn Relay Carnival (thepennrelays.com) is an amateur track and field sports event hosted by the University of Pennsylvania. The carnival dates back to 1895 and is now one of the oldest relay carnivals in the United States. The three-day event hosts competitors from around the world alongside elite athletes from high schools and colleges across the United States. Penn Relay typically occurs during the last weekend of April at the University's Franklin Field (235 S. 33rd Street Philadelphia). On-site parking is available at several lots that surround the stadium. At the time of publication, the average cost of parking was $12 per day.
Philly Fringe Live Arts Festival
The Philly Fringe Live Arts Festival (livearts-fringe.org) is a showcase of live performance arts that include a mix of plays, dance, magic shows, performance art and stand-up comedy. Philly Fringe takes place in the first two weeks of September, spread out among multiple venues across Philadelphia. The list of venues is subject to change each year, so be sure to check the main festival website, where the schedule is available as early as June. The website is also the place to go to purchase tickets in advance. As of July of 2011, general admission tickets for each show cost $25 to $30, and student (under 25) tickets cost $15.
New Jersey State Fair
At the time of publication, the New Jersey State Fair (njfair.com) was celebrating its 25th anniversary. Each year, from the last week of July to the second week of August, the fair features a variety of attractions and entertainment, including rides, carnival games and animal rides. Food vendors are scattered throughout the fairgrounds, serving up Italian sausage, cotton candy, corn dogs, funnel cake and Philly cheese steaks. General admission ranges from $5 to $9 per person, depending on their age and the day of the week. Rides cost $1 each, and day passes cost $18 to $25. The New Jersey State Fair is located approximately 60 miles from Philadelphia at 102 Route 120 East Rutherford, New Jersey. To get there from Philadelphia, take the I-78 East exit onto I-95 North (New Jersey Turnpike) and follow the Western Spur to Exit 16W, which provides direct access to Sports Complex parking areas at the fair. Alternately, use Eastern Spur (Lincoln Tunnel) to exit 16E to Route 3 West. Take Route 3 West and follow the signs to the Sports Complex. Parking is free from Monday to Wednesday and $4 from Thursday to Sunday.
Kimberton Fair
Kimberton Fair (kimbertonfair.org), which operates annually during the last week of July, combines a carnival fairway with agricultural demonstrations and competitions and art exhibits. Food vendors are scattered around the fairgrounds, serving up hot dogs, hamburgers, meatball sandwiches, donuts and ice cream. Tickets for rides are $1 each, but unlimited ride wristbands are available for $16. A Mega Pass ($50) is available for visitors who want to return to the park several times. The fairgrounds are located at 762 Pike Springs Rd., Phoenixville, Pennsylvania. To get there from Philadelphia, take the Schuylkill Expressway West to Valley Forge Exit 327 Mall Blvd. Turn Right on Mall Blvd. Go to the stop light, turn right onto Gulph Road and follow it to Route 23 for approximately five stoplights.
Photo Credits
Stockbyte/Stockbyte/Getty Images