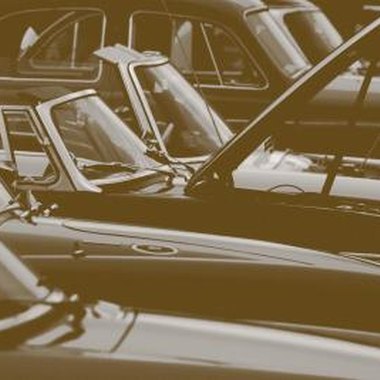 Every year, New York state acts as host to many car shows and swap meets. Car shows involve car enthusiasts getting together to park and display their cars while examining and admiring others. Some car shows give awards for "best in show" while others are simply meet-ups for car lovers. Many car shows are "open," meaning hot rods, sports cars and other models can enter and showcase their vehicles. Swap meets take place at many of these shows, where vendors selling auto parts, food and more come to sell their products to car show attendees.
Albany Auto Show
Albany, New York's annual Auto Show features over 170 new vehicles and dealerships. The Albany Auto Show is designed to showcase the newest cars and car technology. Cars, trucks and SUVs are all included and on display. The three-day, weekend-long event takes place annually in early March at the Times Union Center. The event is sponsored by The Eastern New York Coalition of Automotive Retailers, Inc. Admission at time of publication was about $8, while children under the age of 12 were free.
Altamont Fair Car and Motorcycle Show
Held annually in Altamont, New York, at the Altamont Fairgrounds, the Altamont Fair Car and Motorcycle Show is a day filled with cars, live music, fresh food and a swap meet. Sponsored by the Helderberg Mountain Nationals and the Altamont Fair, the Altamont Fair Car and Motorcycle Show cash prizes for multiple car and motorcycle categories, a 50/50 raffle, multiple vendors selling and swapping food crafts, and car accessories. Spectator fees were $5, while car show registration was $10 at time of publication.
Autumn Sports Classic Car Show and Picnic
Each Labor Day, the Buffalo Octagon Association hosts its Autumn Sports Classic Car Show and Picnic. In 2010, the event took place at Como Lake Park in Lancaster, New York, and featured 21 different car categories, a picnic and refreshments, an auction and pinewood derby. Pre-registration for the event was $10 at time of publication, while day-of registration cost $15.
Rhinebeck Car Shows and Swap Meet
Each year, the Hudson River Valley Antique Auto Association of New York hosts its annual Rhinebeck car show and swap meet. Spectator fees are $10, while car entry fees range from $10 to 15, with cars older than 1930 admitted for free, at time of publication. Overnight camping was allowed and cost patrons $30, at time of publication. Over 800 hot rods, 1,200 classic and antique cars, 1,300 swap meet vendors and 30,000 spectators attend the annual event, hosted at the Dutchess County Fairgrounds in Rhinebeck, New York.
Photo Credits
Jupiterimages/Photos.com/Getty Images