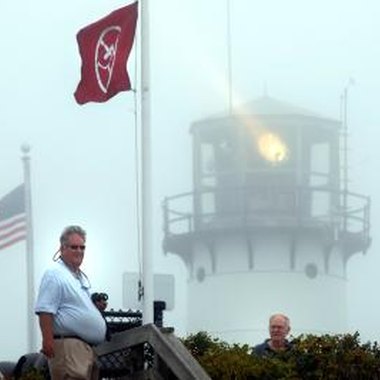 Cape Cod juts out into the Atlantic Ocean among one of the world's richest fisheries and along the busy shipping lanes of New England. The irregular coast line, shifting currents and changeable weather mean ships and boats need plenty of markers along the rugged coast; this is why there are 20 lighthouses around the cape. Five of those lighthouses are open for public tours.
Chatham
Not surprisingly, Chatham Lighthouse (lighthouse.cc/chatham/, which was built in 1877, is located alongside Lighthouse Beach in the town of Chatham, Massachusetts. The 48-foot lighthouse is an active one, supervised by the Coast Guard Auxiliary. The tours, which are free, are conducted on Wednesdays between 1:00 and 3:30 p.m. Tourists who want to climb need to be in shape – the stairs are steep – and children under 5 are not permitted. There is a gift shop at Chatham.
Highland
Near the town of Truro, along the Cape Cod National Seashore, is the Highland Lighthouse (lighthouse.cc/highland/). This 66-foot lighthouse was built in 1857, and it is operated by the United States Coast Guard. You can visit the site all year round, but the lighthouse itself is open for tours only from May to October. During this season, tours run from 10 a.m. to 5:30 p.m., seven days a week. Admission is $4 a head, and kids need to be at least 48 inches tall to go up. Highland also has a gift shop, open from 10 a.m. to 6 p.m.
Nauset
In 1996, in the town of Eastam, Massachusetts, beach erosion threatened to topple the historic Nauset Lighthouse (nausetlight.org) from the 60-foot cliff upon which it was perched. The Nauset Lighthouse Preservation society rescued the landmark by having it moved 300 feet inland and restored. Nauset is not an active lighthouse, but it is open for tours on selected days between May and October; admission is free. Check the yearly schedule posted on their website to find out on which days they are open. The lighthouse features three lights – sometimes called the Three Sisters – atop a 22-foot high structure, first built in 1838.
Nobska Point
Nobska Point Lighthouse (lighthouse.cc/nobska/) is situated on the harbor at Woods Hole, Massachusetts. This 40-footer was built in 1876, and the house now serves as the residence for the commander of the Coast Guard's Southeastern New England sector. Tours are only available on selected Thursdays and Saturdays between May and December, weather permitting. Tour-seekers are advised to check with the lighthouse website for up-to-date information on tours. Admission is free, but children have to be at least 45-inches tall as well as at least 6 years old to tour.
Race Point
In Provincetown, Massachusetts, you can find Race Point Lighthouse, which is an active Coast Guard Lighthouse. The tours for Race Point are run by the Cape Cod Chapter of the nonprofit American Lighthouse Foundation. Tours are from 10 a.m. to 2 p.m. on the first and third Saturdays from June 1 until October 1 each year. Admission is free, and they have a gift shop. If piping plovers nest there, tours are cancelled until the chicks fledge. Overnight accommodations are also available. Children any size are okay, but they must be under the supervision of a parent or guardian.
Photo Credits
Darren McCollester/Getty Images News/Getty Images