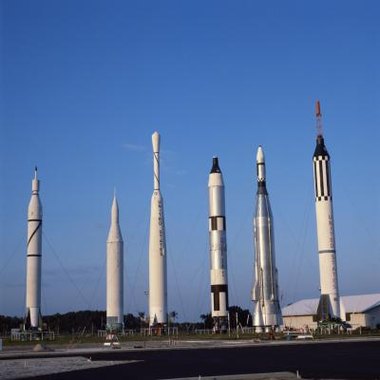 The Kennedy Space Center is situated on Florida's Atlantic coast, a few miles north of Cape Canaveral city. It opens daily for tours except Christmas Day and certain shuttle launch dates. A general admission ticket gives access to all of the Visitor Center exhibits, and you can view the shuttle launch sites and learn more about the history of space travel by taking part in one of NASA's guided tours. You also can access the Space Center on a bus tour from Orlando or Miami. Plan on spending more than one day to see everything.
Kennedy Space Center Visitor Complex Tours
The Kennedy Space Center Visitor Complex admission ticket allows you to take a self-guided tour of the Visitor Center. Attractions include two giant IMAX theaters, a space shuttle launch experience, the Astronaut Hall of Fame, the interactive Exploration Space exhibit and a full-size replica of space shuttle Explorer, as well as a play dome for younger children. You can pay extra to eat lunch with an astronaut.
Kennedy Space Center Bus Tour
This two-hour tour on a NASA bus is included in your admission price. Tours depart every 15 minutes from the Visitor Center and run all day. The bus takes you to the LC-39 observation gantry, which offers a panoramic view of the shuttle launch pads. You then visit the Apollo/Saturn V Center to remember the Apollo astronauts and see the massive Saturn V moon rocket.
Discover KSC: Then and Now
This tour only runs once a day, so early booking is recommended; it is not included in the admission price. It lasts almost four hours and is led by a professional tour guide. Visit Launch Complex 5/6, the birthplace of NASA's manned space program, where the first Mercury rockets were launched. Take a tour of the Air Force Space and Missile Museum, then see Launch Complex 34, where three astronauts tragically perished in 1967 during a launch test for Apollo 1. The tour ends with a visit to the Apollo/Saturn V Center. Check in at the Information Counter at least 45 minutes before the tour, and guests over 18 must provide valid photo identification. Photography is only permitted at designated stops.
Discover KSC: Today and Tomorrow
This tour, narrated by a space program expert, runs several times each day, and takes about three hours. It offers a close-up view of the space shuttle launch pads from the A/B Camera Stop. The Today and Tomorrow tour also takes you to the vehicle assembly building, shuttle landing facility and the Apollo/Saturn V Center. You must pay extra for this too; book in advance since seats are limited.
NASA Rocket Garden Tour
This tour is available twice daily and is included in the admission price. Get a close-up look at Atlas, Titan and Redstone rockets, which are illuminated in a patriotic color scheme of red, white and blue. You also can climb inside a genuine Apollo, Gemini or Mercury capsule to experience the cramped conditions in which early astronauts were forced to live during space missions.
Photo Credits
Jupiterimages/liquidlibrary/Getty Images